Composed by Anonymous
Edited by
James Dearing
Series Editor:
Simon Carrington
Voicing: SAB a cappella
Catalog number: AMP 0779
Price: $2.20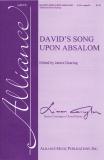 Performance Note
This intensely beautiful setting of the most famous of all laments can be treated with flexibility and imagination and will lend itself powerfully to individual interpretations. I suggest an elastic tempo, a relish of the dissonances, an emphasis on the suspensions, time at the cadences, careful syllabic stress, and a dynamic scheme to reflect the ebb and flow of King David's tide of grief as he contemplates the death of his son.
Simon Carrington
Editorial Note
This anonymous motet was discovered by my late colleague, Dr. Irving Godt, at the
British Museum in a volume (B.M. Add. 33235, pp. 1'3) containing other manuscripts by
John Blow, Henry Cooke, Christopher Gibbons, Pelham Humphreys, Henry Loosemore,
Henry Purcell, and Jacobo Carissimi, including his Missa a quinque et a novem (1666).
The irregular barring of the manuscript (3/1, 5/1, 4/1, 3/1 etc.)
has been replaced with a simpler system which conforms to the cadential structure.
James Dearing
Indiana University of Pennsylvania