| | |
| --- | --- |
| | |
Composed by
Eleanor Daley
Voicing: SSAA
Instrumentation: a cappella
Catalog number: AMP 0534
Price: $1.70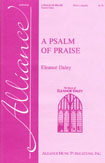 A PSALM OF PRAISE
Psalm 92: 1,4
Mizmor shir l'yom hashabbat.
Tov l'hodot L'Adonai
ulzamer l'shimcha elyon.
L'hagid baboker chasdecha
veemunat' cha baleilot.
Alei asor valei navel,
alei higayon b'chinor.
Ki simachtani Adonai
b'faalecha b'maasei yadecha aranein.


How good it is to give thanks to you Lord,
to sing praises unto thy name, O Lord most high;
to declare thy loving kindness every morning,
and thy faithfulness by night,
with the sound of the ten string lyre,
with music of lute and harp.
Thou hast made me glad through thy work, O Lord,
I will rejoice in the works of thy hands.
Note on pronunciation
In the transliteration of the Hebrew text, most of the sounds are to be pronounced as in English, while taking particular note of the following:
ch is always pronounced as in Scottish "loch," e.g. b'chinor
The apostrophe (') is used to indicate a reduced vowel similar to the"e" in courtesy, e.g. l'hodot
Both a and ah are pronounced as the "a" in Italian "mano," e.g. hashabbat
ai is pronounced as the "y""in "sky," e.g. Adonai
e is pronounced as in "met," e.g. navel
ei is pronounced as the "ey" in "they," e.g. valei
i is pronounced as the "ee" in "feet," e.g. shir
o is pronounced as in "for," e.g.l'yom