Composed by
Andrea Ramsey
Series Editor:
Rebecca Rottsolk
Voicing: SA
Instrumentation: piano with optional string quartet
Catalog number: AMP 0803
Price: $2.10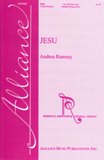 TRANSLATION
Jesu, nil canitur suavius,
Nil auditur jucundius,
Nil cogitatur dulcius,
Quam Jesus Dei Filius.
Nec littera exprimere,
Nec lingua valet dicere.
Sit nostra in te gloria
Per cuncta semper saecula!
Jesu.
Jesus, nothing more melodious is sung,
Nothing more delightful is heard,
Nothing sweeter is ever thought,
Than Jesus, the Son of God.
No written word can express,
No tongue can tell.
Be Thou our glory
For all time!
Jesus.  
Optional string quartet parts are available from the publisher (AMP 0803P).
recording performed by Allegro Con Brio,, Allegro Community Children's Choir>
Christy Elsner, director
Lenexa, Kansas