Composed by
Mark Sirett
Series Editor: Elaine Quilichini
Voicing: SSA
Instrumentation: Clarinet & piano
Catalog number: AMP 0714
Price: $3.95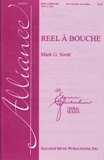 REEL À BOUCHE
Reel à bouche is Acadian for "mouth music" or "chin music" often associated with the
Celtic tradition. Nonsense syllables are used to imitate the sounds of other instruments.
This original work is inspired by this folk tradition.
The syllables are sung as they appear:



	do	=	doo, or if it is a staccato note, you will find the tongue 
				naturally forms a doot as in scat singing
	dee	=	dee	
	
	di	=	die

	dn	=	 close into the 'n' quickly

	la, lee, lay  =   pronounced as they appear, the 'l' should be light and done 
				with the tip of the tongue

	nk	=	tongue clicks that should sound like wood blocks
				and pitched as indicated

	ch	=	choked high hat cymbals
Choristers should gently slap thighs on each quarter note from measure 4 to letter D and
resume at letter G to the end.
The original instrumentation was piano with accordion and double bass. These parts
(AMP 0714P) are available for purchase from the publisher and may be substituted for the clarinet part.
Mark G. Sirett
recording performed by Amabile Choirs of London, Canada