We Know Whom You Are Seeking
Composed by Ludwig van Beethoven
Arranged by
Alexa Doebele
Series Editor:
Lawrence Kaptein
Voicing: TTB
Instrumentation: piano, optional orchestral score
Catalog number: AMP 0668
Price: $2.20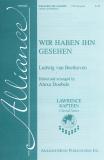 WIR HABEN IHN GESEHEN
Ludwig van Beethoven
SOURCES
This edition is based on the Breitkopf & Härtel critical edition of Beethoven's works.
HISTORICAL BACKGROUND
Many know Ludwig van Beethoven (1770–1827) for his piano sonatas, symphonies, and string quartets, but with the exception of his Symphony No. 9, "Choral,"Beethoven's vocal works are not widely known. Christus am ılberge, or Christ on the Mount of Olives, was Beethoven's only oratorio, first performed in 1803. The work outlines the dramatic events leading up to the conviction and subsequent crucifixion of Jesus. Much of this oratorio is written for soloists, but there are several distinctive choral movements. The concluding "Hallelujah"is frequently performed, but the remainder of the work is rarely performed at all. The chorus "Wir haben ihn gesehen"("We Know Whom You Are Seekingı) portrays a band of centurion soldiers who are seeking Jesus to arrest him.
EDITORIAL METHOD
The majority of musical material has been retained, including pitches, rhythms, accidentals, dynamics, and articulations. A keyboard reduction of the original orchestration (oboes, bassoons, trumpets, timpani, strings) has been provided in this edition; orchestral parts are available separately.
TEXT
The text is taken from a libretto by Franz Xavier Huber, a popular poet contemporary of Beethoven. The original German text has been included along with a singable English translation. A literal translation appears here:
Wir haben ihn gesehen We have seen him
Nach diesem Berge gehen, Going to the mountains,
Entfliehen kann er nicht. He cannot flee.
Sein wartet das Gericht, Judgment awaits him,
Ja, seiner wartet das Gericht! Yes, judgment awaits him.
PERFORMANCE SUGGESTIONS
This movement, along with the entire oratorio, is of a highly dramatic character. Dynamics should be carefully observed in order to heighten the drama. While many would think of a group of soldiers as a noisy band, here they are quietly trying to sneak up on Jesus and His disciples. Crisp diction and observance of dotted rhythms will also add to a dramatic performance.
Alexa Doebele
performance by University of Colorado, Boulder Golden Buffalo Men's Chorus
Boulder, Colorado
Jim Keller, conductor