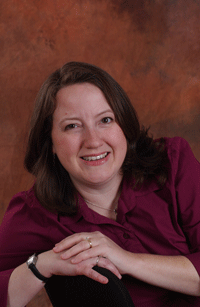 Alexa Doebele is on the faculty at the University of Wyoming, where she conducts the Bel Canto Women's Chorus and teaches general survey and music education courses. She is a candidate for the Doctor of Musical Arts degree in Choral Conducting and Literature at the University of Colorado at Boulder, where she was the conductor of the University Women's Chorus and assistant conductor of University Singers. She is a frequent clinician, adjudicator, and guest conductor throughout Colorado and is active as an editor of choral music. She is a ten-year veteran of K-12 music education, most recently at Iver C. Ranum High School in Denver. Ms. Doebele serves currently as the Director of Music at Holy Cross Lutheran Church in Wheat Ridge, Colorado.
She prepared the University of Colorado Women's Chorus to perform Benjamin Britten's War Requiem under the baton of Marin Alsop at Denver's Boettcher Concert Hall. In addition, she conducted the University Women's Chorus in a master class with acclaimed early music ensemble Anonymous 4. As Assistant Conductor of the University of Colorado University Singers, she conducted the ensemble for the American Choral Directors Association Collegiate Choral Festival and at the Colorado Music Educators Association Clinic/Conference.
She is also active as both a solo and choral singer in the Boulder/Denver area, having appeared with the Ars Nova Singers, the St. Martin's Chamber Choir, the Boulder Chorale, the Littleton Chorale, and the CSO Chorus. Ms. Doebele can be heard as a featured soloist with the Ars Nova Singers on the CDs I Heard a Voice and blue true dream, and she has performed solo and choral works with them on tour in Santa Fe, NM, Washington, DC, and Vancouver, Canada.
She holds a master's degree in music education from the University of Colorado and a bachelor's degree (double major in vocal performance and German language and literature) from Washington University in St. Louis. Her conducting teachers have included Lawrence Kaptein, Joan Catoni Conlon, Lynn Whitten, and Dan Presgrave, and she has studied voice with Patti Peterson, Charmaine Coppom, Julie Simson, and Mary Henderson Stucky. She is a member of the American Choral Directors Association, Music Educators National Conference, National Collegiate Choral Organization, the College Music Society, and the Association of Lutheran Church Musicians. She has also been elected to the Pi Kappa Lambda (music), Delta Phi Alpha (German), and Phi Beta Kappa (liberal arts) honoraries.