Arranged by
Tom Porter
Series Editor:
Susan McMane
Voicing: SSA
Instrumentation: Piano and Violin
Catalog number: AMP 0722
Price: $2.10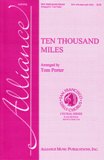 Ten Thousand Miles (program and performance notes)
Ten Thousand Miles is a hauntingly beautiful English folk song that was adopted by the Appalachian folk tradition. The text and tune appear in many versions, including early 18th-Century English publications and the Sharp English Folk Songs from the Southern Appalachians, a collection from 1916. The folk text may have influenced the poet Robert Burns, as several verses are close to those in "My Love is Like a Red, Red, Rose." Recently recorded versions include Nic Jones, Mary Chapin Carpenter, Eliza Carthy, and Altan.
The Harvard Dictionary of Music defines folk music as, "Music in oral tradition, often in relatively simple style, primarily of rural provenance, normally performed by nonprofessionals, used and understood by broad segments of a population and especially by the lower socioeconomic classes, characteristic of a nation, society or ethnic group, and claimed by one of these as its own." (p. 315)
Folksongs are communal creations. They belong to a culture rather than a composer. As a result, we lack source materials. In the realm of folk-music this results in variation, creating "versions" of a given song. "The term version is revered in folk circles, because it is the opportunity to do it 'my way' that makes each new presentation of a folk song a vibrant, unique expression...The folk singer is not only encouraged to personalize the music, but expected to do so. Variants would include melodic embellishment, textual adaptation, expansion or contraction of form, and harmonic or rhythmic variation. Since folk music exists "between the notes," spontaneity and improvisation are crucial to each performance.
When transferring the traditionally solo genre of folk music to choral singing, it is important to be true to tradition. However, in a choral setting, individuals cannot improvise without chaos. Creating a "version" becomes the responsibility of the arranger and the director. The ornaments written in the vocal parts are meant as a guide to this improvisatory style. If they become cumbersome, delete them. The choir can experiment with other ornaments, such as scoops and glides, to create the effect of singing "between the notes." Solo folk singers often sing on the second vowel of a diphthong, in contrast to singing the first vowel in bel canto style singing. Again, the choir can experiment with effects, such as singing the hard "ee" sound on words like "away" and "may," and the "oo" of "thousand."
The violin part is also meant to be a guide. Seasoned fiddle players should feel free to create their own "version" in the spirit of the arrangement and in collaboration with the choir director. The violin part as notated is quite legato throughout; the grace notes should be played before the beat.
In the meter transition of measure 39, the quarter note remains constant.
Thomas J. Porter
	July 2006
recording performed by
The San Francisco Girls Chorus
San Francisco, California
Susan McMane, conductor