Composed by Baldassare Donato
Arranged by
Z. Randall Stroope
Voicing: SSA a cappella
Catalog number: AMP 0643
Price: $1.80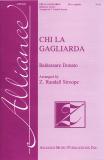 "CHI LA GAGLIARDA"
ABOUT THE TEXT
Chi la gagliarda donna vo imparare, 
Venite a nui che simo, mastri fini, 
Che de ser' e de matina
Mai manchiamo, di sonare: 
Tantira, tan ti ru ra. 
 
Those ladies, who want to learn the galliard, 
Come to us — we are excellent teachers; 
Night and day 
We continuously play: 
Tantira, tan ti ru ra. 
Note: "Gagliarda" is similar to "gah–lyar–dah" (three syllables only), except the "gli" combination is pronounced with the middle of the tongue on the roof of the mouth. There is no English equivalent, and it should not be pronounced "gah–lee–ahr–dah." Italian r's are always flipped; dentalize the consonants ( [d, t, p, ch] are particularly challenging for most students); keep the tip of the tongue on the teeth and avoid aspiration of consonants (as prevalent in English); "ch" is pronounced as "k" (Italian "chi" sounds like the word "key" in English, except for the dental "k"). Precision in pronunciation will also complement the precision of the dance–like character of the piece.
ABOUT RENAISSANCE DANCE
Fashion changes in the late Renaissance, including tight upper body lacing for men and corsets for women, contributed greatly to stylistic changes in social dance. Further, head movement was restricted by the wearing of ruffs around the neck. As a result, dance technique focused on virtuosic footwork. The dancing, designed for music in triple and duple meter (like "Chi la Gagliarda"), included walking steps, cutting steps, sliding and stamping of the feet, leaping and jumping. The arms were generally held low. Often requiring the services of a dancing master and considerable practice to perfect, the complex dances involved as many as eight performers and were designed to be viewed from the front, sides, or above the dance floor.
ABOUT THE COMPOSER
Baldassare Donato (1525–1603) was arguably the best secular composer of his era. His madrigals and motets are characterized by spirited rhythmic accents, lucid patterns, and attractive melodies. He seems to have been more interested in portraying the emotion, spirit, and color of the words he set to music rather than simple text painting.
PERFORMANCE SUGGESTIONS
A hand drum or tambourine (tight) can add color and rhythmic interest to this piece. (A simple half note repeated beat works well enough). Melodically, recorders can be used to double the three choral parts, or even a single soprano recorder can be used to add color to the soprano line. (Avoid playing on the triple meter refrain, however, as this tends to weight its buoyancy and lilt.) Lastly, a well–executed movement by eight dancers would be effective and totally appropriate, since this piece is a dance — and dances are about music and movement. Enjoy!
Z. Randall Stroope conducts choirs and instrumental groups throughout the United States and is the Artistic Director of annual summer festivals in Europe. Dr. Stroope is also a university professor and has published over 80 musical works. His principal composition teachers were Normand Lockwood and Cecil Effinger, both students of Nadia Boulanger (a student of Faurý). Of the eleven compact discs he has recorded, two (Passages, Volume I and Volume II) are exclusively his own works. (See www.zrstroope.com for a complete list of works and biography.)