Composed by Andrea S. Klouse
Series Editor:
Rebecca Rottsolk
Voicing: SA
Instrumentation: piano
Catalog number: AMP 0615
Price: $2.10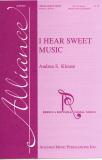 I HEAR SWEET MUSIC
Performance Notes
Optional Introduction:
The opening fanfares (first by brass, then solo voices, followed by choir Soprano and Alto sections divided each into two "fanfare teams") should be presented freely. Great latitude is granted for artistic interpretation in areas of tempo, duration and scope of the fanfare section. As such, the simple motifs and notation for vocal entries are offered as a fairly basic, albeit concrete, means of joining all the sections together; yet, once having entered, it is critical that all performers maintain an independence of rhythm, tempo and volume, while still staying dedicated to the pitches indicated. Soli voices follow brass entrances (the number of soloists to be determined by the director) with the remaining voices of the choir joining the respective solo counterpart from their own section. The overall form of the fanfare should begin as a simple "call and answer," with voices increasing in intensity to the climax and ultimate resolution, as layers of parts arrive on the final pitch of the fanfare. The entry of parts, movement through the section and ultimate arrival at the end may be directed by the conductor, or self-managed by the artists. It is suggested that soli parts begin to proceed to the choir area following their "fanfare."
Performing groups are encouraged to allow factors (e.g., the uniqueness of the physical concert site, resonant acoustical opportunities, and the creativity of the director/performers) to dictate the boundaries for the fanfare section.
Some ideas:
* Try having opening performers (brass and vocal) begin from positions of polyphonic significance: balconies, aisles and so on. Even a well-staged spot from within the audience can be a fresh and exciting way to begin the concert!
* If possible, have the opening brass "call" begin from behind the general audience, or from a hidden position, and direct the sound diagonally across the audience. A "surround-sound" experience can also be effective; all choices should be guided by the limits of musicality and artistry.
* Note: Brass players have more latitude to try distant or hidden fanfare stations; soli voices should remain local, for ease in stepping back to the choir. Instead of just a few soli voices, it is possible for an entire choir to participate in the fanfares.
* An additional option for performance could be to skip the fanfare entirely.
performance by Vivace! Choral Progran
Kapowsin, Washington
Andrea S. Klouse, conductor
ý