| | |
| --- | --- |
| | |
Composed by
David Maddux
Series Editor:
Rebecca Rottsolk
Voicing: SSAA
Instrumentation: Piano
Catalog number: AMP 0585
Price: $2.50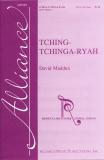 TCHING-TCHINGA-RYAH
I wanted to create a text that required the listener ı and the singer ı to define the indefinable for themselves. The explanation is in every verse of the song. The title words themselves have no meaning, other than I Made Them Up. But the essence of what I'm trying to convey is that in every human soul there is a built-in mechanism that somehow reaches out to seek The Divine... or What Is Beyond Our Understanding... or That Unnamed Inspiration That Fuels And Ignites Us. We all have experiences where we are clearly aware that Something or Someone Unseen is in contact or communication with us; ıhappenstancesı and coincidences occur that are too amazing to be mere chance; a person, place, or thing crosses our path at the perfect moment and something powerful happens. You know the feeling. I think we all know the feeling.
Tching-Tchinga-Ryah is intended to shine the spotlight on that Amazing Connection; to celebrate that fact that it is very real, and that it exists without exception for everyone. And that there is incredible personal power in seeking it out, acknowledging it, getting to know it, embracing it, owning it, and learning to create with it.
David Maddux