Arranged by
Joan C. Varner
Voicing: SSA
Instrumentation: piano and flute
Catalog number: AMP 0508
Price: $2.00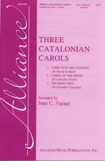 THREE CATALONIAN CAROLS
Performance Suggestions
1. Come With Me Dancing (El Noi de la Mare)
Each of the songs contains English and Spanish text. This song in particular should be performed with both the English and Spanish verses. The English verses throughout are not meant to be literal translations but new lyrics in the spirit of the old.
2. Carol of the Birds (El Cant dels Ocells)
This should be a real contrast to the first song. The Spanish verse should be sung first and then the English with the coda. The figure in the piano accompaniment in measures 39 and 67 should be performed as a fast trill between the two upper notes.
3.The Rose Tree (El Desembre Congelat)
This can be performed with the first verse (English) and the third verse (Spanish) or you may prefer to sing just the two Spanish verses. The final refrain with its wordplay is fun to sing in Spanish.