If Love went ahunting: from Book 2 of Five-Part Madrigals
Composed by Claudio Monteverdi
Edited by
Joan Catoni Conlon
Voicing: SSATB
Instrumentation: a cappella
Catalog number: AMP 0491
Price: $1.90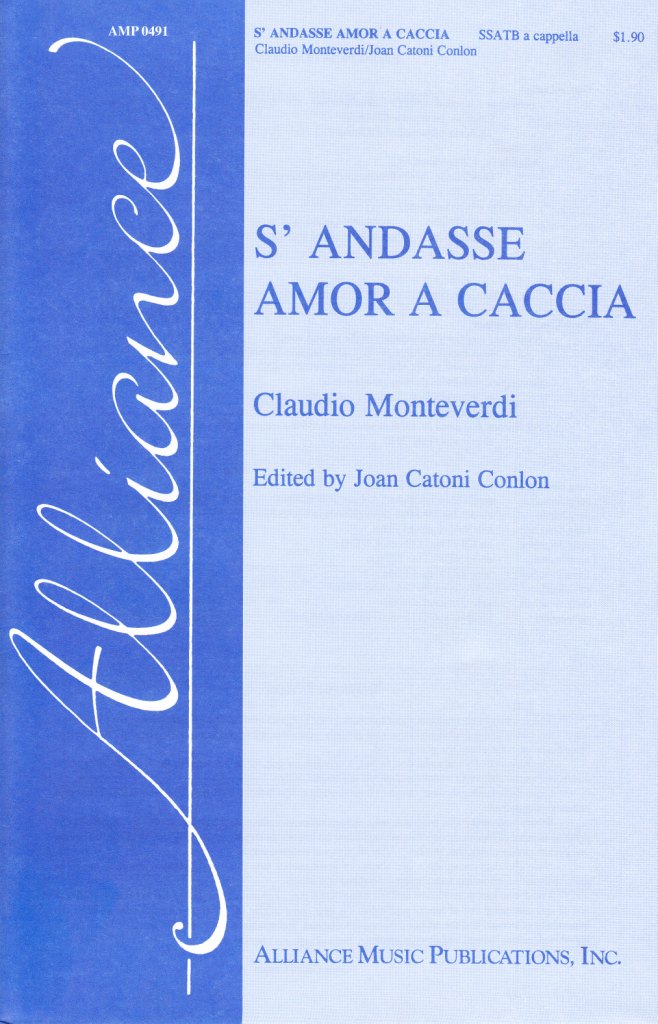 INTERPRETATION
This is a very lively madrigal about romantic love. The poet used many terms of endearment for the dog, terms that surely had a double meaning, and actually were directed at the woman the poet loved or at any beautiful woman for whom the poet yearned.
Grechino actually was a real dog, in fact, a very famous dog, for he belonged to the Duchess Margherita d'Este Gonzaga - the poet's aristocratic patron in Mantua, Italy.
Since these madrigals were sung for entertainment of the listener, the tempo can be quick and the word painting exaggerated.
When performing this madrigal, take opportunities to enliven the interpretation. For example, the unusual number of repeated notes on the dog's name invites one to think of a dog barking. Why not try having one person per part bark that rhythm? After all, this was entertainment!
Note also that consecutive (see above) or simultaneous (see the score) points of imitation are to be performed with contrasting articulation - detached and legato.
Those who love poetry know well the name of this poet, Torquato Tasso (1544-1595) because of his use not of sentimentality but of tender sentiment - a new thing in the 16th century that flowered as both the importance of woman and the art of music began to ascend. Italians today are justifiably proud of Tasso and of his refined, noble, natural and graceful poetry.
Joan Catoni Conlon