Arranged by
Craig Kingsbury
Series Editor:
Jing Ling Tam
Voicing: SATB divisi
Instrumentation: piano, opt. oboes
Catalog number: AMP 0459
Price: $1.70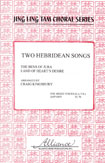 TWO HEBRIDEAN SONGS
"The Bens of Jura" and "Land of Heart's Desire"
arranged by Craig Kingsbury
Off the western coast of Scotland lie the islands known as the Hebrides-Skye, Mull, Iona, Jura, Lewis, Harris, Uist, and many others. In the early decades of the twentieth century, while Vaughan Williams and Holst were doing similar work in England, Scottish musicologist Marjory Kennedy-Fraser traveled through these isles transcribing the folksongs of the region. She subsequently published these songs in six volumes between 1909 and 1927, adding her own piano accompaniments and English singing translations. The songs presented here are from the first two volumes of Mrs. Kennedy-Fraser's collected songs.
"The Bens of Jura" comes from the Isle of Mull, just north of Jura; like so many other traditional folksongs, it is a song of unrequited love. "Land of Heart's Desire" comes from North Uist, and refers to Tir-nan- g, or 'Land of the Ever-Young,' the Celtic paradise supposed to lie somewhere west of the Hebrides, toward the setting sun; it is a song of both calm and longing, and the direction on Kennedy-Fraser's arrangement is "with ecstatic serenity."
The present arrangements, though written for piano, might just as easily be played on harp. The oboe parts are strictly optional, and could be played by other instruments or omitted.
Craig Kingsbury earned his degree in music composition at the University of Southern California. He worked for a number of years in Los Angeles as a singer, choral conductor, and arranger, and spent two years in Europe singing oratorio and opera. He now resides in Portland, Oregon, where he arranges music and produces recordings for a publisher of liturgical music.