Composed by Reynaldo Hahn
Edited by Debra Spurgeon
Voicing: SATB
Instrumentation: piano
Catalog number: AMP 0409
Price: $1.60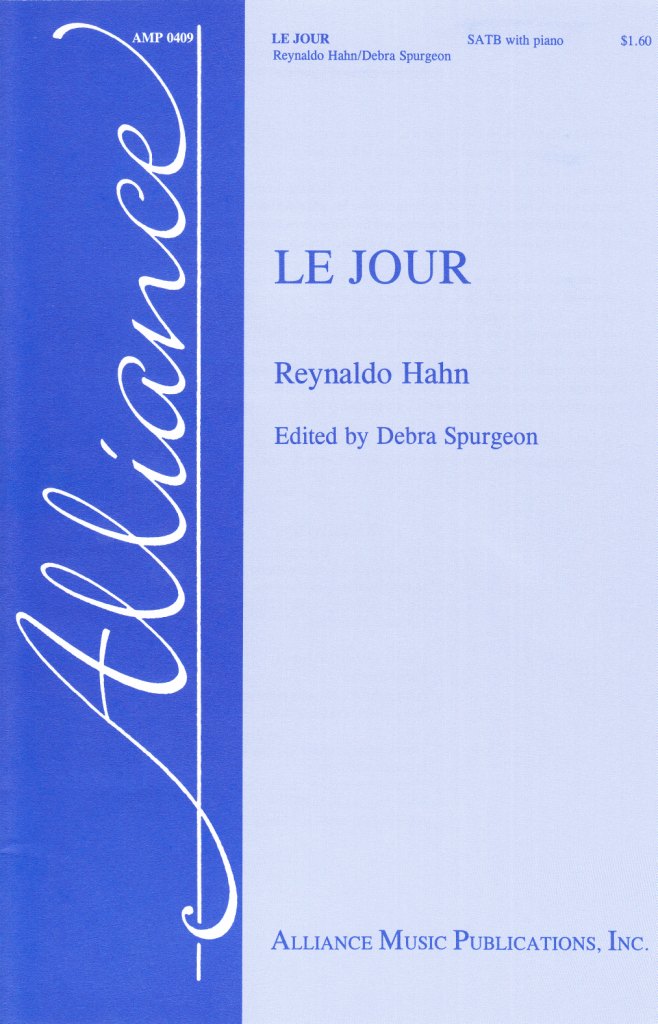 Reynaldo Hahn (1874-1947) was a composer, conductor, salon singer, music critic, and influential member of Parisian musical society during la belle epoque (1885-1915). A student of Jules Massenet, Hahn was popular in his day as a composer of operettas, ballets, and incidental music, although he dabbled in almost every medium. When the musical world around him was changing, Hahn continued to write in a lyrical, romantic style. He remained aloof from the musical innovators of his time, notably Debussy (whom he criticized for not understanding the voice), Les Six, and Stravinsky, and continued to write music qui cherche a plaire (which tries to please).
The majority of Hahn's vocal compositions are French melodies (art songs); however, he also composed a few works for choir, some of which were originally published in melodie cycles. "Le Jour" is the first song in the melodie cycle Douze Rondels (Twelve Rondels ) and one of three choral works in the solo cycle. It is not known how large a choir Hahn intended for the three choral pieces, but it is clear that he did not envision a solo quartet because he indicated plural when labeling soprani, contralti, etc. in the score. Voice parts divide frequently, which would require more forces than one singer on each part. Hahn was intrigued with the music and poetry of the past and so it is no surprise that he chose the rondel, an archaic poetic verse form, for this cycle.
This edition is based on the 1899 version published by Heugel in France. The French translation and the pronunciation guide were prepared by Debra Spurgeon.
TRANSLATION
All is delight when day breaks
In the flaming skies of dawn.
On the flowering earth it beautifies.
Immense joy returns!

Clearly silhouetted leaves
Rustle loudly;
All is delight when day breaks
In the flaming skies of dawn.

The thatched cottage like the tower
Is tinged with light.
The water murmurs, the flower adores,
Birds sing, madly in love!
All is delight when day breaks.