Hear the murmuring breezes)
Composed by Claudio Monteverdi
Edited by
Joan Catoni Conlon
Series Editor: Lynn Whitten
Voicing: SSATB
Instrumentation: a cappella
Catalog number: AMP 0368
Price: $2.30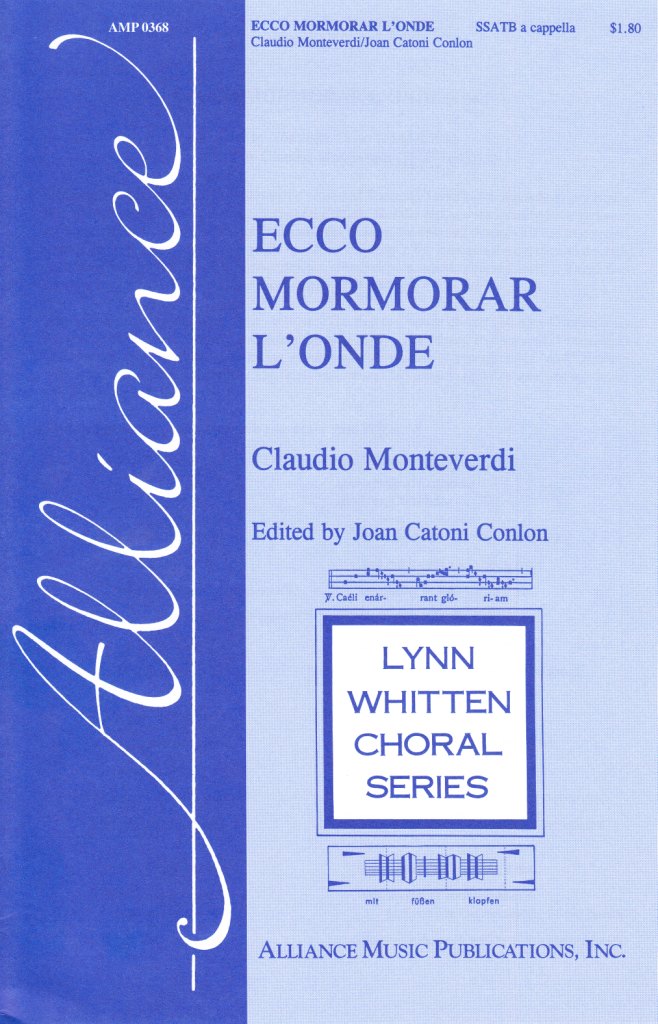 ECCO MORMORAR L'ONDE (1590)
Text by Torquato Tasso (1544-1595)
Music by Claudio Monteverdi (1567-1643)
Interpreting this madrigal. Monteverdi's setting of Torquato Tasso's evocative description of a sunrise expresses perfectly the text, because the music, like the text, moves literally from darkness to bright sunlight. Note that Monteverdi indicates piano at the opening through his use of covered vowels and low voices ("Hear the gentle breeze murmuring"), but indicates forte at the end through sustained, full chords ("shining, radiant dawn. ..restores each ardent, withered heart"). Tasso also uses the arrival of dawn as a metaphor for renewal of the soul.
"Ecco mormorar l'onde" is in three sections. The first six verses of text (26 plus 13 measures) describe the quiet before dawn, and should be sung softly. The second five verses (27 measures) describe the changes as they are taking place, and with successive repetitions of 'and,' become increasingly excited and sonorous. The final three verses (26 measures) celebrate the arrived dawn, and should end strongly.
This madrigal may be sung as much as a minor third higher .
Joan Catoni Conlon University of Colorado Boulder, Colorado
Text and Translation
Ecco mormorar l'onde

e tremolar le fronde
a l'aura mattutina e gl'arborselli.
E sovra i verdi rami i vagh 'augelli
cantar soavemente
e rider l'oriente.

Ecco gilà l'alb 'appare
e si specchia nel mare
e rasserena il cielo
e 'imperla il dolce gielo
e gl 'alti monti indora.

O bella e vagh 'aurora
l ' aura è tua messaggiera,
e tu de l'aura
ch 'ogn 'arso cor ristaura.

Hear the gentle breezes murmuring,

and the leaves and young trees
trembling in the morning air.
And, above, on leafy branches
beautiful birds sing sweetly,
and, slowly, the eastern sky brightens.

Now the dawn begins to appear,
and to cast a reflection in the sea,
and to lighten the sky,
and to make pearls of delicate dewdrops,
and to clothe in gold the high mountains.

Oh, radiant and shining dawn,
his breeze is your messenger,
and you are the messenger of the breath
that restores each ardent and
withered heart.
from the Lynn Whitten Choral Series
recorded performance by the Texas Music Educators Association All-State Mixed Choir
Craig Jessop, conductor