Composed by Michael Haydn
Edited by
Betsy Cook Weber
Voicing: SSA
Instrumentation: keyboard or strings
Catalog number: AMP 0280
Price: $2.50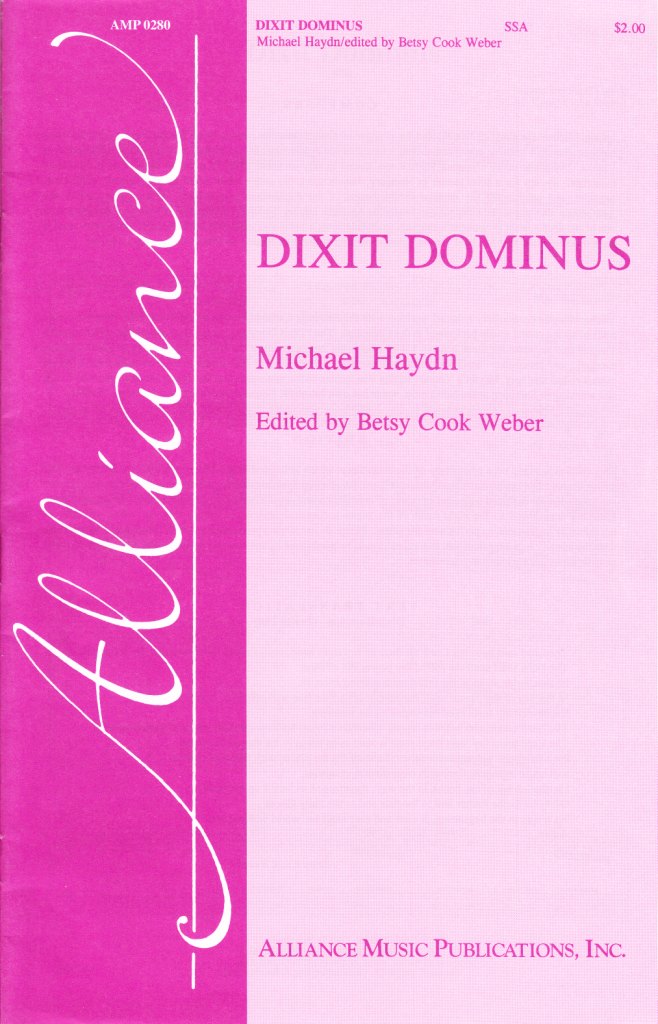 COMPOSER
Johann Michael Haydn (1737–1806) was the younger brother of the more famous Franz Joseph Haydn. Like his older brother, Haydn's training consisted almost entirely of his experiences as a choirboy at St. Stephen's Cathedral in Vienna. After his voice changed, Haydn was forced to rely on these skills in order to survive as a Free–lance musician. Except for a brief tenure in Hungary, Haydn spent his entire adult career as a composer, conductor, organist, and teacher for the musical establishment of the Archbishop in Salzburg. During this period, the Archbishop also employed Leopold and Wolfgang Mozart. During his lifetime, Michael Haydn was recognized as one of the area's most prominent musicians, particularly as a composer of sacred choral music. Numerous studies have demonstrated that Michael Haydn's music exerted a strong influence on that of the younger Mozart.
MUSIC
Michael Haydn particularly enjoyed working with the Salzburg Cathedral's fifteen choirboys who sang the treble parts of all the choral music performed in the Cathedral. The "Dixit Dominus" is the first movement of a complete Vespers that he wrote for these boys in 1780. Like other works by this wonderful composer, the music is tuneful, energetic, and dance-like--qualities which were assuredly as appealing to 18th-century children as they are to those of today. Interestingly, Haydn's Vespers setting was written in the same year that Wolfgang Mozart, who was living and working in Salzburg at the same time, wrote his own beautiful Vesperae solennes de confessore, K. 321.
EDITION
This edition is based on a photocopy of the manuscript which is located in the Museo Carolino in Salzburg. The editor derived the keyboard accompaniment from the original instrumentation which consists of two violins and continuo. Haydn included a number of marks of articulation and ornamentation in the violin parts. These have been faithfully transferred to the right hand of the piano accompaniment, even though they are often difficult, or occasionally impossible, to perform on the piano. Please do not allow a preoccupation with these marks to interfere with the tempo. It is important that this piece should be performed Allegro as Haydn indicated. All other editorial contributions are enclosed in parentheses.
TEXT TRANSLATION
Dixit Dominus (Psalm 110)
The Lord said unto my Lord: sit thou on my right hand, until I make thine enemies thy footstool.
The Lord shall send the rod of thy power out of Sion:
be thou ruler, even in the midst among thine enemies.
In the day of thy power shall the people offer thee free-will offerings with holy worship:
the dew of thy birth is of the womb of the morning.
The Lord swore and will not repent: Thou art a Priest for ever after the order of Melchisedech.
The Lord upon thy right hand shall wound even kings in the day ofhis wrath.
He shall judge among the heathen; he shall fill the places with the dead bodies:
and smite in sunder the heads over diverse countries.
He shall drink of the brook in the way: therefore shall he lift up his head.
Glory be to the Father and to the Son and to the Holy Ghost.
As it was in the beginning, is now and ever shall be: world without end.

Betsy Cook Weber

performance by Los Angeles Children's Chorus
Pasadena, California
Anne Tomlinson, artistic director