Somagwaza, Nginani Na
Arranged by Kaptein & Lyon
Edited by
Lawrence Kaptein
Series Editor:
Lawrence Kaptein
Voicing: SATB, solo
Instrumentation: percussion
Catalog number: AMP 0226
Price: $1.80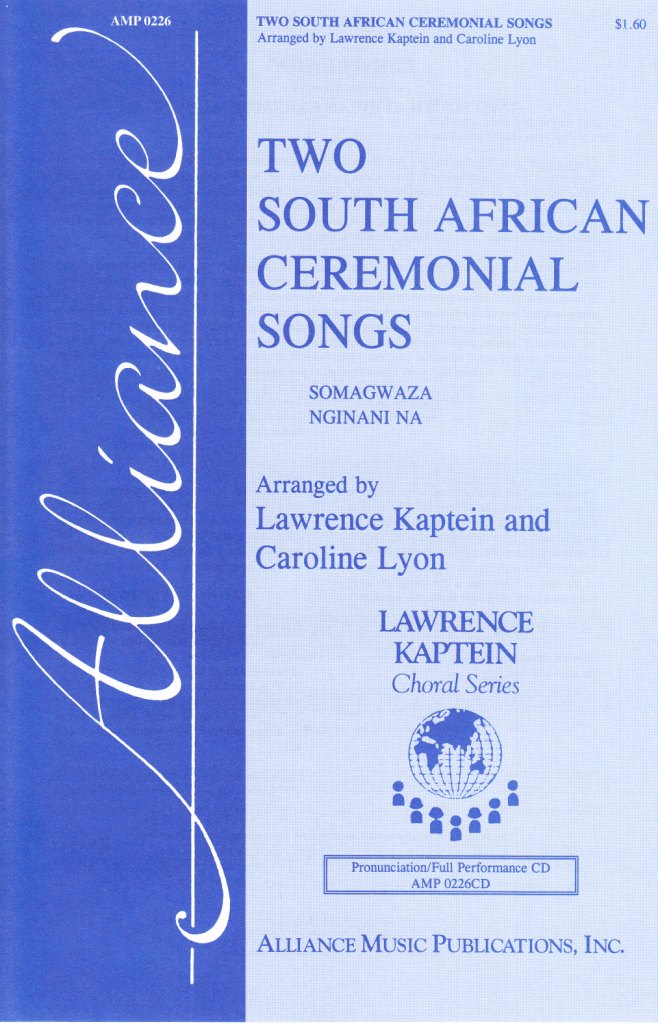 TWO SOUTH AFRICAN CEREMONIAL SONGS
"Somagwaza" and "Nginani Na" are folk songs that have existed for countless generationsvwithin the oral tradition and ceremonial practices of South Africa's indigenous peoples. Western performers should therefore strive to retain as much "naturalness" and flexibility (ornamentation, improvisation, movement, instrumentation, etc.) appropriate to South African folk-performance practice. Feel free to transpose these pieces as needed, utilize any voicing desired, substitute or alternate soloist(s) with tutti chorus, add or modify hand claps/movement. The possibilities are almost limitless, so feel free to experiment and have fun.
Singers should sing whichever vocal line feels most comfortable; having both male and female voices singing the same voice part at the octave will add to the folk-quality element of the pieces. A vocal production that is energized and that utilizes good air-flow is essential. Experiment singing with a wide-open mouth, forward placement, and less vibrato than used in most Western concert repertoire. Recordings of South African singing groups can be of tremendous help in getting "a feel" for authentic vocal timbres. Incorporating these pieces on "traditional" concert programs will actually compliment, not detract, from the more "traditional" Western repertoire; create a sound mosaic at concerts. Have fun with the contrasting vocal colors you create. Both "Somagwaza" and "Nginani Na" work extremely well as processionals.
Caroline Lyon
Austin, Texas
Lawrence Kaptein
Former Director of Choral Activities
University of Colorado at Boulder