from Missa in G, D167
Composed by Franz Schubert
Edited by
Linda Allen Anderson
Series Editor:
Linda Allen Anderson
Voicing: SATB
Instrumentation: keyboard
Catalog number: AMP 0121
Price: $2.10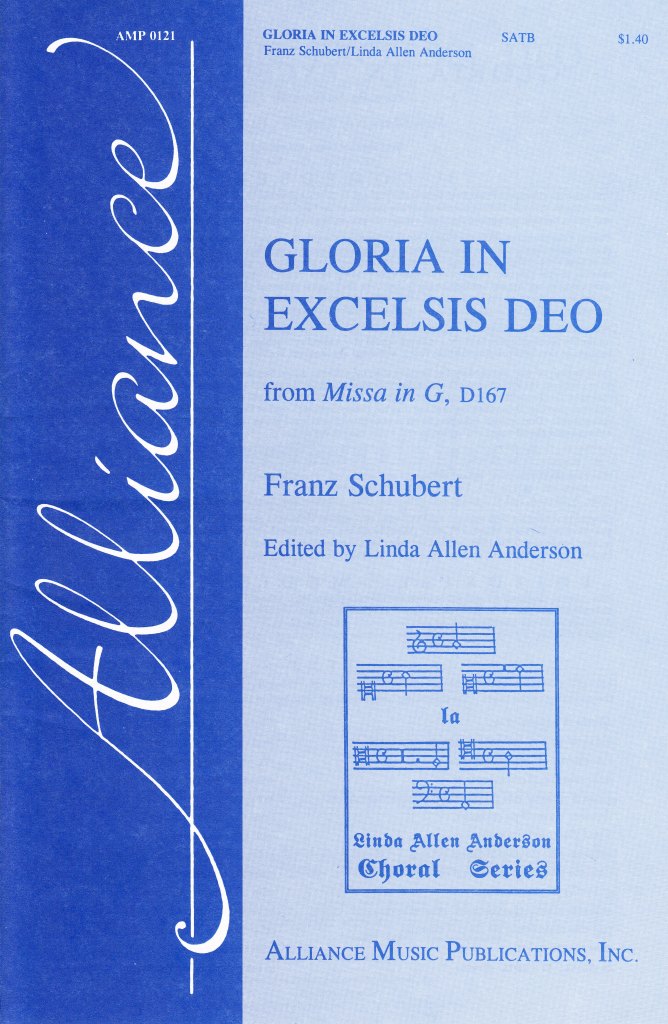 GLORIA IN EXCELSIS DEO
(Glory Be to God on High)

from Mass No.2, in G D167 (1815)

performance time: approx.2:55
COMPOSER
The Austrian composer Franz Peter Schubert (January 31, 1797-November 19, 1828) is the only great Viennese master who was born in Vienna. His schoolmaster father Ferdinand and eldest brother Ignaz, after introducing Franz to the violin and piano, quickly recognized the child's huge musical talents and sent him to the parish church for singing lessons.
During the summer of 1808, the Vienna News announced a soprano vacancy in the choir of the imperial chapel. Following Franz's impressive audition, the imperial court Kapellmeister Antonio Salieri (August 18, 1750-May 7, 1825), who had been Gluck's protege, Haydn's friend, and Mozart's rival, enrolled the eleven-year-old as an imperial chorister and student at the Konvikt. Soon Franz was also playing first violin in the orchestra, gaining conducting skills, and composing music for his family's string quartet. In 1812 Salieri assumed the task of supervising Franz's music lessons, continuing to serve as his teacher until 1817. The supreme irony of their association: Salieri disapproved of his pupil's interest in the German tied, the art form in which Schubert ultimately found his most inspired and profound expression.
Although his voice changed during the summer of 1812, Franz remained a student at the college until late in 1813, when his family persuaded him to enter a training school for elementary teachers. In 1814, having been rejected by the military because he was less than five feet tall, Franz, at the age of seventeen, became an assistant teacher in his father's school.
Even though he was annoyed by the time-consuming teaching duties that took him away from his beloved music, Franz found time in 1815 to compose an amazing 145 songs, including best-loved works such as Erlk&ouml:nig, Heidenröslein, Die Mainacht, Das Rosenband, Der Jangling an der Quelle, Der Fischer, and Nähe des Geliebten. In his spare moments, this prolific eighteen-year-old also completed a string quartet, two symphonies, and at least a dozen piano pieces. Nor did he neglect choral music. During 1815, Schubert wrote at least five sacred choral works with orchestra, plus numerous a cappe11a and accompanied choral compositions for mixed, male, and female choirs.
SOURCE
Mandyczewski, Eusebius, Johannes Brahms and others, ed.
Franz Schuberts Werke: kritisch durchgeschene Gesamtausgabe
, series xiii, vol. 1, p. 121. Leipzig, 1884-1897 /rev. 1964-1969.
Dlirr, Walther, A. Fell, C. landon and others, ed.
Franz Schubert: Neue Ausgabe sämtlicher Werke
, ser. i, vol. 1. Kassel,1964.
Originally scored for STB soloists, SATB chorus, two violins, viola, and continuo, the Mass No.2 in G was composed in just six days, between March 2-7, 1815, probably for the parish church in tiechtenthal, a suburb of Vienna. Schubert's brother Ferdinand (1794-1859) later added trumpet and timpani parts. After Franz's death, Ferdinand also prepared parts for two oboes (or clarinets) and two bassoons. The mass was first published in 1846.
EDITORIAL MODIFICATIONS
This edition, prepared for the All-Southern California Junior High School Honor Choir, includes a few alternate notes inserted by the editor in order to facilitate performance of this masterwork by young men whose vocal ranges are limited. Alternate notes are inscribed in a smaller font (tnwr: measures 82, 83, 85; bass: measures 6, 18, 23-27, 52). Schubert's original notation is preferred. All editorial suggestions regarding tempo and dynamics are bracketed.