Composed by
Z. Randall Stroope
Voicing: SATB
Instrumentation: piano
Catalog number: AMP 1085
Price: $2.10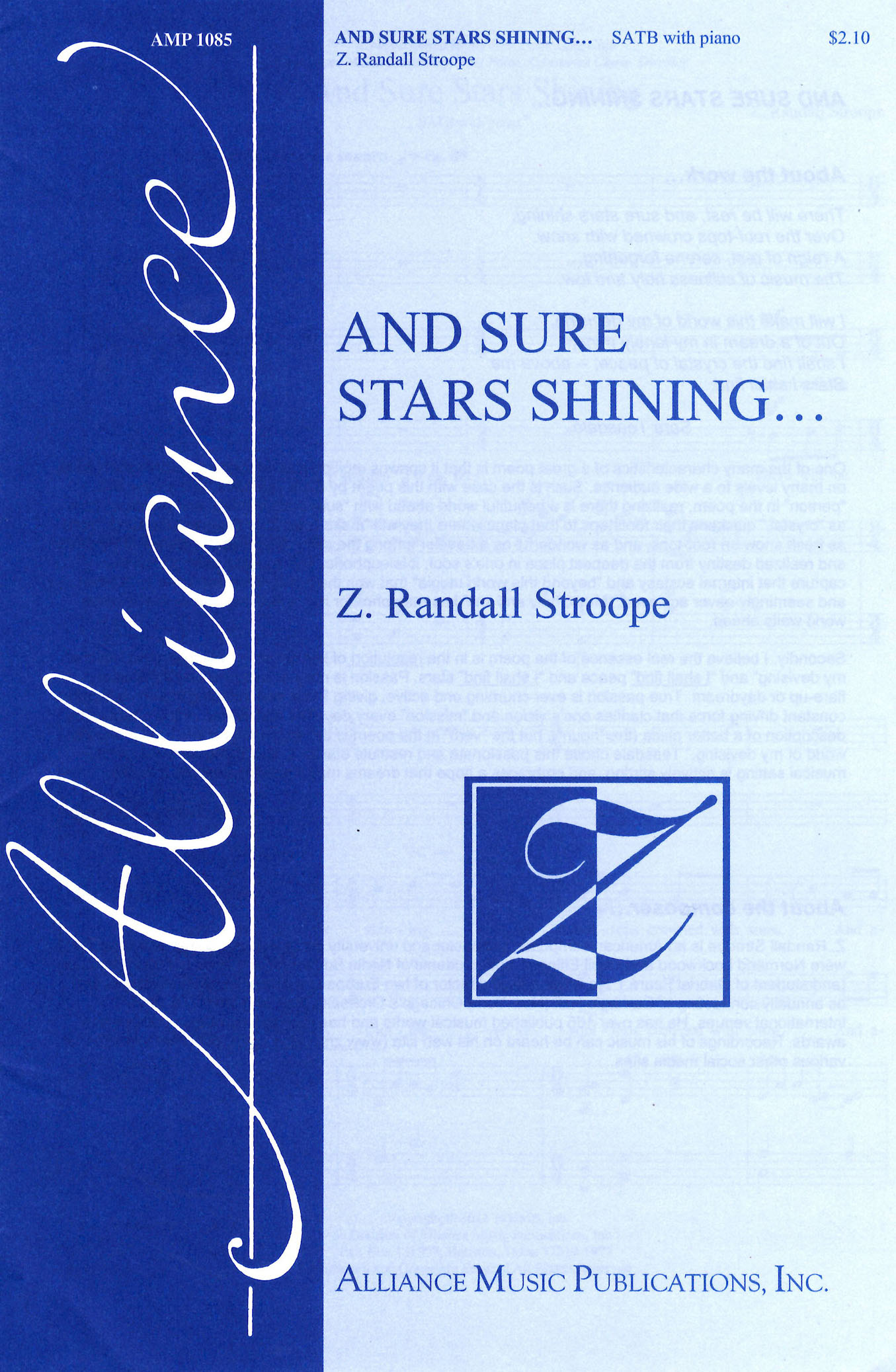 SSA version: AMP 1084
AND SURE STARS SHINING…

About the work…
There will be rest, and sure stars shining,
Over the roof-tops crowned with snow.
A reign of rest, serene forgetting,
The music of stillness holy and low.
I will make this world of my devising,
Out of a dream in my lonely mind,
I shall find the crystal of peace, -- above me
Stars I shall find.
Sara Teasdale
One of the many characteristics of a great poem is that it spawns multiple interpretations - words that speak on many levels to a wide audience. Such is the case with this poem by Sara Teasdale. In my view, the "person" in the poem, realizing there is a beautiful world ahead with "sure stars shining" and peace as pure as "crystal," quickens their footsteps to that place where they will "make a world of their own devising," pure as fresh snow on roof-tops, and as wonderful as a traveler among the stars. It is, in fact, a sense of freedom and realized destiny from the deepest place in one's soul. It is euphoric. This musical setting seeks to capture that internal ecstasy and "beyond this world utopia" that was the reality Sara Teasdale so wanted, and seemingly never achieved. "Music holy and low" is a metaphor for her "quiet" assurance that a better world waits ahead.
Secondly, I believe the real essence of the poem is in the resolution of her quest - "I will make this world of my devising" and "I shall find" peace and "I shall find" stars. Passion is not just a momentary infatuation, flare-up or daydream. True passion is ever churning and active, giving focus and meaning to life - a tugging, constant driving force that clarifies one's vision and "mission" every day. The first stanza of the poem is the description of a better place (the "noun"), but the "verb" in the poem is the second stanza - "I will make the world of my devising." Teasdale chose this passionate and resolute stanza to end this poem. Hence, this musical setting is actively stirring, and embraces a hope that dreams may someday become a reality.
About the composer…
Z. Randall Stroope is an American composer, conductor and university professor. His composition teachers were Normand Lockwood and Cecil Effinger, both students of Nadia Boulanger, the famous French teacher (and student of Gabriel Fauré.) He is the artistic director of two European summer music festivals, as well as annually conducting at Carnegie Hall (New York) Chicago's Orchestra Hall, and other U.S. and international venues. He has over 165 published musical works and has received numerous composition awards. Recordings of his music can be heard on his web site Z. Randall Stroope, publisher websites, or various other social media sites.