Moreninha, If I Asked You For a Kiss
Composed by Traditional
Arranged by
Marco Antonio de Silva Ramos
Series Editor:
Elaine Quilichini
Voicing: SATB a cappella
Catalog number: AMP 1030
Price: $2.20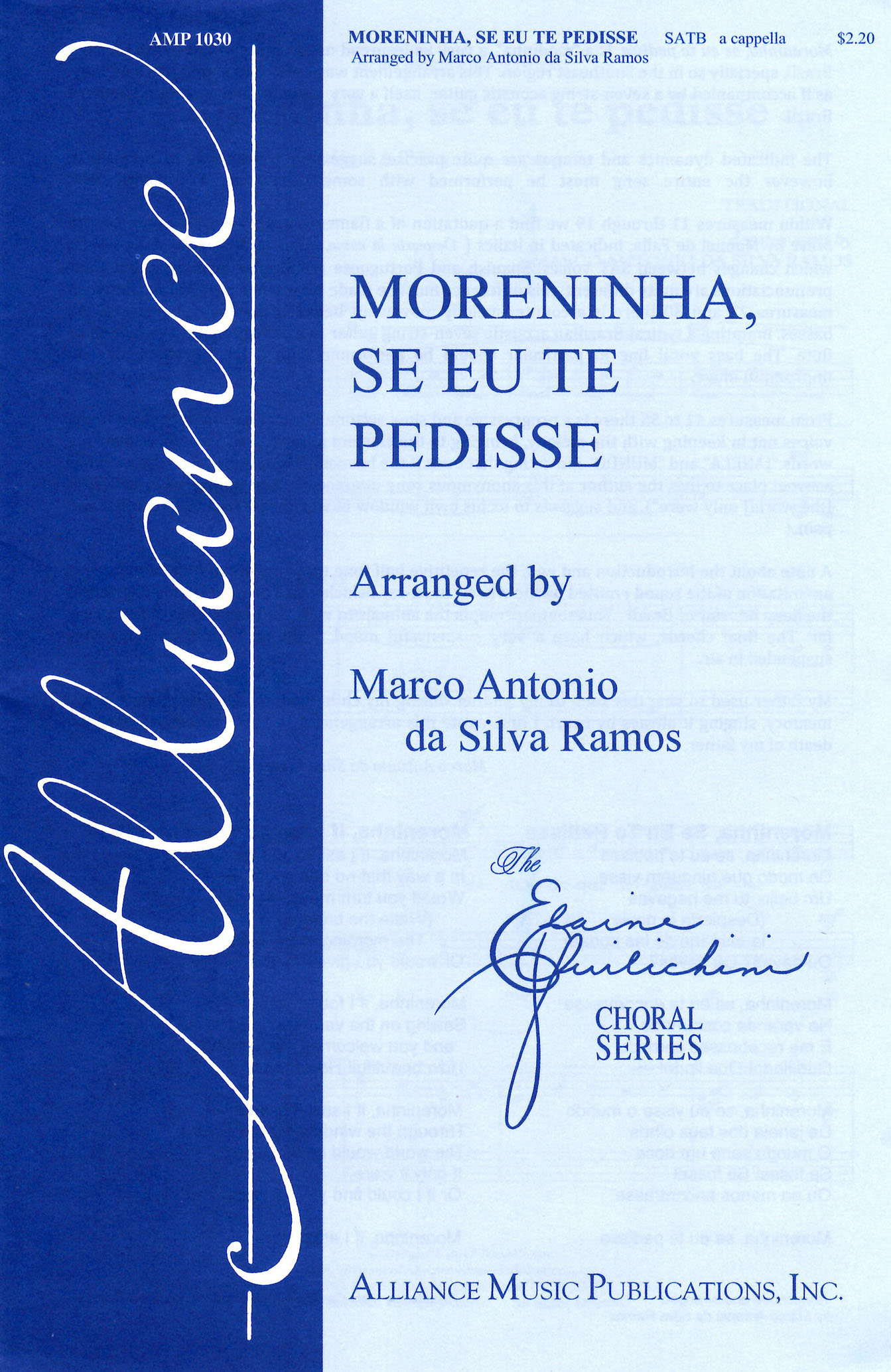 Moreninha, se eu te pedisse is a "modinha", a very widespread music genre in late XIXth Century Brazil, specially so in the Southeast region. This arrangement was created to sound like a melody, as if accompanied by a seven-string acoustic guitar, itself a very common instrument in southern Brazil.
The indicated dynamics and tempos are quite precise, suggesting a clear way to perform it, however the entire song must be performed with some rubato, as a romantic lied.
Within measures 11 through 19 we find a quotation of a flamenco song from the opera La vita Breve by Manuel de Falla, indicated in italics ( Despierta la novia, despierta, la mañana de las bodas!), which changes between SAT voices. Spanish and Portuguese are similar languages, but their pronunciations are quite different; this difference must be made clear when performing. Between measures 22 and 30 there is a counter-melody movement between the main theme and the basses, imitating a typical Brazilian acoustic seven-string guitar in a dialogue with a mandolin or flute. The bass vocal line in particular should be performed with a lot of rubato, like an impromptu move.
From measures 41 to 55 there is a progressive and slow accumulation of harmonic tension in the voices not in keeping with the melody, bringing to the clusters at measures 54 and 55, over the words "JANELA" and "MUNDO" indicating that even if the beloved &ldquoMoreninha" sees the world as a sweet place to live, the author of this anonymous song interrogates her, telling "se fosse" ("if it [the world] only were"), and suggests to us his own window of worldview regarding conflict and pain.
A note about the introduction and end; the repetitive half tone that appears in both situations is an imitation of the sound emitted by the wheels of ox-car vehicles, still present to this day within the deep interior of Brazil . This sound prompts the animals to walk, and can be heard from very far. The final chords, which have a very suspenseful mood, must be treated as a memory suspended in air.
My father used to sing this song to my mother during my childhood and so I retained it in my memory, singing it always by heart. I first wrote this arrangement in 1983, two years after the death of my father.
| | | |
| --- | --- | --- |
| | | Marco Antonio da Silva Ramos |
Moreninha, Se Eu Te Pedisse
Nereninha, If I Asked You For a Kiss
Moreninha, se eu te pedisse
De modo que ninguém vise
Um beijo, tu me negavas
(Despierta la novia
la manżna de las bodas)
Ou davas? Ou davas?
Moreninha, if I asked you for a kiss,
In a way that no one could see it,
Would you turn me down
(Wake the bride up
The morning of the wedding)
Or would you give me one?
Moreninha, se eu te encontrasse
Na varanda costurando
E me recebesses sorrindo
Que lindo! Que lindo!

Moreninha, if I found you
Sewing on the veranda
and you welcomed me, smiling
How beautiful! How beautiful!
Moreninha, se eu visse o mundo
Da janela dos teus olhos
O mundo seria um doce
Se fosse! Se fosse!
Ou ao menos encontrasse
Moreninha, if I saw the world
Through the window of your eyes,
The world would be so sweet!
If only it were
Or if I could find you, at least
Moreninha, se eu te pedisse
Moreninha, if I asked
Transcribed and arranged by
Marco Antonio da Silva Ramos
Translation: Taís Carloto &
Marco Antonio da Silva Ramos
Moreninha Pronunciation Guide