Composed by
Z. Randall Stroope
Voicing: SSAA
Instrumentation: piano
Catalog number: AMP 0734
Price: $2.10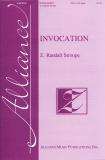 INVOCATION
from Deux méditations poétiques
"Invocation", by the French poet Alphonse De Lamartine (1790-1869), is from a set of 24 poems publishes in 1820, titled Méditations, poýtiques et religieuses. Besides being a poet, Lamartine was a historian and statesman, and well-renowned as an eloquent orator in the top level of French government. He was a pioneer in the French Romantic movement of literature, stressing emotion, mysticism, and nature. His poetry marked the transition from the more emotionally convervative Neoclassical era to the passion and lyricism of the Romantic period.
The second poem in the present set, titled Deux méditations poétiques, is "Souvenir" (translated "memory").
Z. Randall Stroope is an American composer, conductor and university professor (www.zrstroope.com). His compositions are frequently heard on internet media, as well as on programs of esteemed ensembles throughout the world. Randall has published 165 works, having studied with Cecil Effinger and Normand Lockwood - both students of the famous French teacher, Nadia Boulanger. He is the Artistic Director of two summer music festivals in Europe, has annual conducts at Carnegie Hall, Chicago Orchestra Hall, and several halls in Europe. He has lead music at Vatican mass eight times. (See www.zrstroope.com for a complete biography and list of works.)
To listen to a performance of "Invocation" Click here.