Composed by
Z. Randall Stroope
Voicing: SSATBB a cappella
Catalog number: AMP 1000
Price: $2.00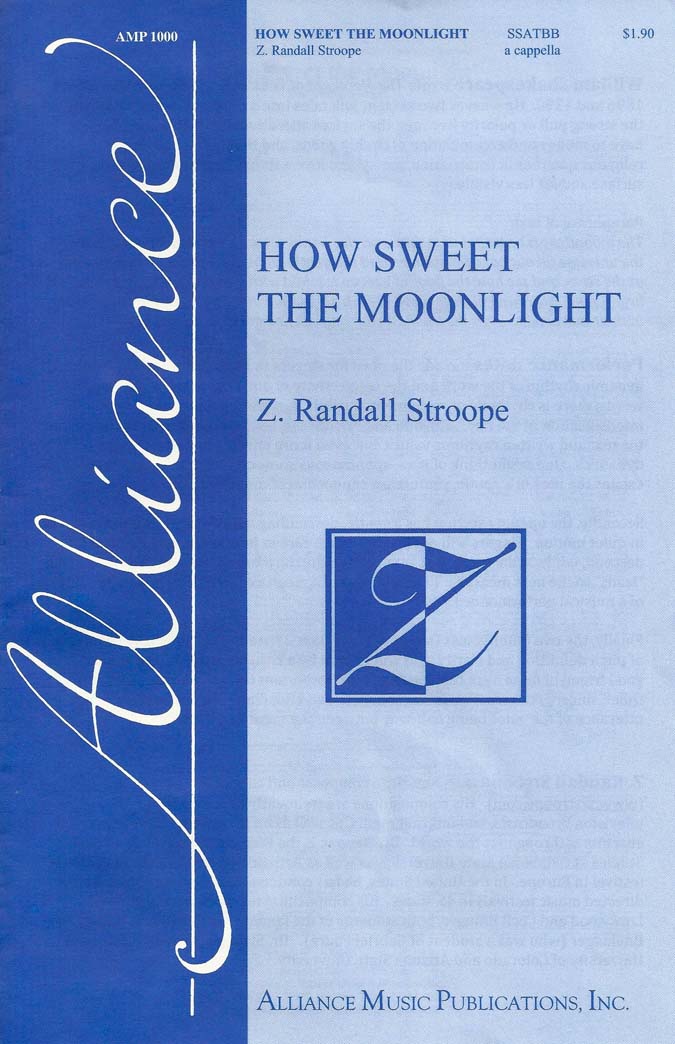 William Shakespeare wrote The Merchant of Venice (Act 5, Scene 1) between 1596 and 1598. He weaves two ancient folk tales into a universal story involving the strong pull or polarity between the surface attractiveness that human beings have to money and accumulation of fleshly goods, and that of the moral and religious qualities of compassion, mercy and love – things beneath the fleshly surface and far less visible.
The moonlight is beautiful as it shines on this bank! Sit with me, and let the music of the universe fill our ears, for stillness and the gentle night are perfect for music. Look at the stars, and see how the floor of heaven is inlaid with a mosaic, or little spheres of bright gold. Stars and planets move in such perfect harmony that one may hear music in their movement. Even the smallest star sings like an angel in its motion.
Performance notes include the need for singers to be cognizant of the subtle dynamic rhythm of the work and the connectivity of one note to the next. In other words, there is rhythmic or movement in subtle dynamic changes and intensification of the line. Tension and release can be created not only in the flow of the text and written rhythmic values, but even more effectively in the rhythm of dynamics. One might think of it as "spontaneous sonic combustion" – each note excites the next in a gentle, yet intense connection of the whole.
Secondly, the opening section has a gentle, descending melodic line, as if the moon is in quiet motion. Singers will need to both take care in intonation as the notes descend, while at the same time intensifying the third beat of each measure so that it "leads" to the next measure. (The last beat of a measure often determines the "fate" of a musical performance.)
Finally, the two outer voices (soprano 1 and bass 2) need to be especially cognizant of pitch definition and clarity, and will benefit by a rich, but transparent sound. A good friend of mine once told me, &ldquol;the most important things in life are said softly." Quiet, sincere conversation is warm in color, and not cluttered with excess – the utterance of the voice being half-way between the mind and the heart.
ZRS
About the composer

Z. Randall Stroope is an American composer and conductor www.zrstroope.com. His compositions are frequently heard on internet media, television broadcasts, and NPR radio, as well as on programs of esteemed ensembles throughout the world. Randall has composed over 150 works, having studied with Cecil Effinger and Normand Lockwood ‐ both students of the famous French teacher, Nadia Boulanger. He is the Artistic Director of two summer music festivals in Europe, has conducted at Carnegie Hall (New York) every year since 2001, and is a university professor. (See www.zrstroope.com for a complete biography and list of works.)
Click here to hear a recording. (MP4)
recording performed by Oklahoma State University Concert Choir
Z. Randall Stroope, conductor