Arranged by
Richard Bjella
Voicing: SSAA
Instrumentation: clarinet and violin
Catalog number: AMP 0904
Price: $2.00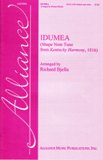 "Idumea" (1991 Sacred Harp, page 47b) is the Latin form of the Biblical name Edom, which means "red." It is a hilly land south of the Dead Sea that is now in Jordan and includes the ancient city of Petra. When Moses wanted to enter the land of Canaan via Edom, the rulers of Edom wouldn't let him. The tune was used effectively at the beginning of Cold Mountain, the 2003 American Civil War drama, accompanying pictures of the Battle of the Crater, one of the most horrible battles fought anywhere in the nineteenth century.
The tune, written by Ananias Davisson (1780–1857) from Shenandoah County, Virginia, is one of the most haunting and popular Appalachian minor songs in Southern shape-note circles. The lilt of the tune fits so well that it could have been written specifically for Charles Wesley's words. I have tried to enhance the text by changing the character rather dramatically on each verse. The phrase "What will become of me?" is especially moving. The phrase at the end, "To see the flaming skies," is also terrifying and I have tried to allow that text to come off the page with the 'flames' appearing in the women's voices.
I have recordings from the United Sacred Harp Musical Association, Anonymous 4 and the University of Kentucky's live performance at the National Collegiate Choral Organization convention in 2006. I would suggest listening to the original version before making it too refined in its approach. The Millikin University Choir, conducted by Brad Holmes, features this setting of "Idumea" on their new CD. This ensemble's live performance incorporating some wonderful and appropriate physical gestures may be seen on YouTube (http://www.youtube.com/watch?v=DnfwvG87bIE). I would suggest little to no vibrato for the singers or the instrumentalists. A rugged and rough vocal timbre and diction must be central to the performance.
All the phrases of this setting are short and should be done with great conviction, but without losing the overall direction of the line and intent of the text. These are "hard-working common folk" singing from the inside out. In measures 69-88, the tenors sing aeh which should be bright and somewhat nasal on each fp, a bit like the word 'ate', but brighter and more spread like a bagpipe without the sustaining quality.
It has been an honor to set "Idumea." I hope the piece will move you and your singers as much as it touched the arranger and the 2008 Lawrence University Concert Choir for which it was composed.
Richard Bjella
Performance by the 2011 Michigan High School State Honors Choir
Kristina MacMullen, conductor