Composed by
Laura Farnell
Voicing: T(T)B or C(C)B
Instrumentation: piano and optional oboe, violin or C-instrument
Catalog number: AMP 0898
Price: $2.00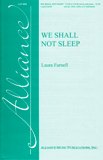 The poem, "In Flanders Fields", was written by Lieutenant Colonel John McCrae, a Canadian who served as a gunner and medical officer during World War I. He wrote this poem following the funeral of his friend and fellow soldier, Alexis Helmer, who died in battle. Legend has it that McCrae threw the poem away after writing it, unhappy with his work, but the poem was saved by his fellow soldiers. "In Flanders Fields" was later published and today is one of the most popular and quoted poems from the war.
"Flanders fields" refers to a battlefield in western Belgium, where McCrae and Helmer were fighting. This area saw some of the most concentrated and bloodiest conflict of the First World War. In a letter to his mother, McCrae described the battle as a "nightmare" and wrote, "For seventeen days and seventeen nights . . . In all that time I was awake, gunfire and rifle fire never ceased for sixty seconds . . . And behind it all was the constant background of the sights of the dead, the wounded, the maimed . . ." The fighting devastated trees, roads, buildings, and houses, leaving barren and muddy ground. The soldiers who died in battle were buried in the fields, marked by crosses and many red poppy flowers which sprang up quickly in the upturned soil.
Because of this poem, the poppy is still used today around the world in remembrance of soldiers who have died in battle.
In Flanders fields the poppies blow
Between the crosses, row on row,
That mark our place; and in the sky
The larks, still bravely singing, fly
Scarce heard amid the guns below.

We are the Dead. Short days ago
We lived, felt dawn, saw sunset glow,
Loved and were loved, and now we lie,
In Flanders fields.

Take up our quarrel with the foe:
To you from failing hands we throw
The torch; be yours to hold it high.
If ye break faith with us who die
We shall not sleep, though poppies grow
In Flanders Fields.

recording performed by Blalack Middle School Varsity Cambiata Men's Choir
Carollton, Texas
Bradley C. Kerley, conductor