Composed by
Colin Britt
Series Editor: Simon Carrington
Voicing: SATB a cappella
Catalog number: AMP 0805
Price: $2.10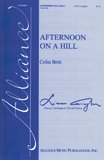 AFTERNOON ON A HILL
I will be the gladdest thing
Under the sun!
I will touch a hundred flowers
And not pick one.

I will look at cliffs and clouds
With quiet eyes,
Watch the wind bow down the grass,
And the grass rise.

And when lights begin to show
Up from the town,
I will mark which must be mine,
And then start down!

Colin Britt's exquisite setting of Millay's touching poem requires a flexible tempo with plenty of gentle rubato to give the effect of a poem being spoken by an accomplished orator. Care should be taken to maintain excellent chordal balance however the voices are divided. Make sure there is enough tenor one on the third beat of measure 33 for instance and not too much of any voice part where they combine again after having been divided.
recording performed by Yale Schola Cantorum,
Simon Carrington, director
"Afternoon on a Hill" is included on the DVD Simon Carrington:
The Empowered Choral Rehearsal (DVD-828, GIA Publications, Inc.).