Arranged by
Nick Page
Voicing: SAB
Instrumentation: piano
Catalog number: AMP 0771
Price: $2.50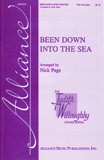 BEEN DOWN INTO THE SEA
Arranged by Nick Page
The word "Hallelujah" strikes joy in our hearts. It is heard in the European classics, both Christian and Jewish, and it is heard in spirituals like "Little David, Play On Your Harp", "Hallelu, Hallelu," and "Hallelujah, I've Been Down Into the Sea." Handel's "Hallelujah Chorus" has been sung in many styles, including an upbeat Black Gospel style. For me, the moment when it occurred to me that I could combine great spirituals with Handel's great anthem was a Hallelujah moment.
For this arrangement, I brought in a second spiritual called "Keep Me from Sinkin' Down." Its beautiful long phrases "Oh Lord, Oh Lord" were the perfect counterpoint to the faster "Hallelujahs." In the spiritual tradition, words are often borrowed from one spiritual to another. For example, the words "One of these days about twelve o'clock, this whole world's gonna reel and rock" is heard in many spirituals. For this arrangement, I borrowed words from a Gospel song by F. M. Hamilton called "We Shall Meet There By and By."
As with African-American and Black Gospel traditions, sing percussively. I compare it to striking a drum with your voice. A phrase can still be legato, but each word simply has a slight punch to it (not the same as an accent). Sing this arrangement with great joy and energy. Contrast the loud and soft sections, but keep the driving pulse moving throughout.
	Nick Page
Nick Page is a Boston-based composer, author, and song leader. He has conducted choral groups and led workshops/sings in forty-eight states, Europe, and Central America, including Carnegie Hall. In the 1980's, he was a conductor with the Emmy Award winning Chicago Children's Choir and since 1990 has been the director of Boston's two hundred voice Mystic Chorale, a chorus specializing in joyful audience participation. Nick has over fifty published works as well as three books including his Sing With Us songbook. His degrees are from Ithaca College and Lesley University.
recording performed by The Fairfield County Children's Chorus
Jon Noyes, Director
Trumbull, CT