Composed by Giovanni Gastoldi
Edited by
Jim Leininger
Voicing: TBB a cappella
Catalog number: AMP 0784
Price: $1.90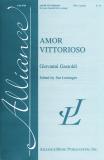 AMOR VITTORIOSO
Come all ye well armed soldiers
I am Love invincible the just archer
Follow me bravely without fear all together in unity.

All who resist you seem menacing foes,
But are defenseless against one whose aim is true.
Armed with strength and courage, dispel all fear, be clever in battle.


An eminent Italian composer of the late sixteenth and early seventeenth centuries, Giovanni Giacomo Gastoldi originated the ballet to with the publication of his Ballet ti a cinque voci in 1591. These pieces in homophonic, dance-rhythm style were published in a multitude of editions in several countries. They became very popular especially in England where such composers as Thomas Morley imitated (and even pirated) the words and music for their own madrigals and ballets.
J.L.
recording performed by The University of Houston Men's Chorus
Houston, Texas
Dr. Betsy Cook Weber, Conductor