Composed by Nicola Porpora
Edited by
Martin Banner
Voicing: SSAA
Instrumentation: 2 violins, viola, cello, bass, continuo
Catalog number: AMP 0772
Price: $2.10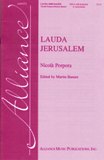 EDITOR'S NOTE
Nicola Porpora (1686-1768), born in Naples, was highly regarded during his own lifetime as both a composer and singing teacher. Having acquired a reputation as a distinguished opera composer in Italy, Porpora traveled to London, by invitation, to compose for an opera company intended to rival that which Handel directed. While living in Vienna, Porpora gave composition lessons to and employed as accompanist a young man by the name of Joseph Haydn. The majority of Porpora's music output centered around vocal music -- operas, cantatas, oratorios and sacred choral works.
Porpora's "Lauda Jerusalem" (Psalm 147:12-20), composed in 1745, is scored for two violins, viola, cello, bass, continuo and SSAA choir. The cover page of the autograph manuscript reads: Lauda Jerusalem a 4: con Struti:, Del Sig:/ Nicola Porpora, Mas: delle Figlie del'/ Ospedaletto in/ Venetia/ 1745.
This edition is based upon the autograph score located in the British Libary in London, catalogue number Add.14129 (© British Library Board. All Rights Reserved). The manuscript is laid out over 13 pages, with eight staves per page.
The present edition adheres closely to the above mentioned source, noting editorial markings in parentheses. Voice parts, notated in moveable clefs, were rewritten in treble clef; where text was indicated in only one voice part, the text has been written out in full; phrase markings were added in the voice parts where two or more notes occur for a single syllable of text; the piano reduction was prepared from the orchestral material.
The editor is indebted to the British Library in London for supplying microfilm of the original manuscript, as well as granting permission to publish.
click on żlisten to a sampleż to hear a full recording of "Lauda Jerusalem"