Composed by Gabriel Fauré
Arranged by
Alan Raines
Voicing: SSA
Instrumentation: piano and optional flute
Catalog number: AMP 0737
Price: $1.80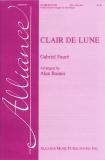 Claire de lune
Music by Gabriel Fauré
Fauré's interest in choral music was superceded by his love for chanson as evidenced by his output. His fascintation for the texts he chose to set is clearly seen in the delicate melodies and subtle harmonies that surround them. Perhaps even more than that of Debussey, Fauré's chansons are in the hands of almost every young man and woman studying voice. They are the epitome of great literature for the young singer. The arranger set "Clair de Lune" with this in concept mind and to expose a wider audience to the beautiful lyricism of Gabriel Fauré.
Clair de lune
Votre âme est un paysage choise
Que vont chantant masques et bergamasques,
Jouant du luth et dansant, et quasi
Tristes sous leurs déguisements fantasquies!
Tout en chantant sur le mode mineur
L'amour vainqueur et la vie opportune.
ils n':ont pas l'air de croire à leur bonheur,
Et leur chanson se mê au clair de lune,
Au calme clair de lune triste et beau,
Qui fait rêver, les oiseaux dans les arbres,
Et sangloter d'extase let jets d'eau,
Les grands jets d'eau sveltes parmi les marbres.
Moonlight
Your soul is a chosen landscape
charmed by masquers and revellers
playing the lute and dancing and almost
sad beneath their fanciful disguises!

Even while singing, in a minor key,
of victorious love and fortunate living
they do not seem to believe in their happiness,
and their song mingles with the moonlight,

the calm moonlight, sad and beautiful,
which sets the birds in the trees dreaming,
and makes the fountains sob with ecstacy,
the tall slender fountains among the marble statues!
Alan Raines, Director of Choral Activities at Baylor University,
is a frequent guest conductor and sought-after clinician,
conducting all-state and honor choirs throughout much of the
United States. His guest appearances abroad have taken him to
South Korea, Europe and Russia. Dr. Raines's choirs have performed for
regional conventions of the American Choral Directors Association
and the Georgia Music Educators Association. He is also a member of
the conducting faculty at the summer festival La Musica Lirica in Urbania, Italy.