Composed by
Jonathan Santore
Series Editor: Larry Wyatt
Voicing: SSAATTBB
Instrumentation: a cappella
Catalog number: AMP 0743
Price: $1.90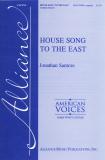 "House Sont to the East" is the second movement of the four-movement work "The Whole World Is Coming," which was commissioned by the Plymouth State University Chamber Singers, Dan Perkins, conductor.
The poem "House Song to the East" is taken from the anthology The Sky Clears edited by A. Grove Day, and used here by permission of its publisher, the University of Nebraska Press.
Performance Note
The first and last solos in this piece should be sung by the same soprano; the other short solos throughout the movement should be sung by as many different soloists as possible. The recommended voice parts for the solos can be changed ad. lib., with men singing the solos (which are all written in the treble clef) 8vo basso.
recording performed The Plymouth State University Chamber Singer
Plymouth, NH
Dan Perkins, Conductor