Composed by J.S. Bach
Edited by
Jonathan Reed
Voicing: SATB
Instrumentation: Keyboard
Catalog number: AMP 0761
Price: $2.00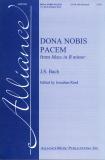 Dona Nobis Pacem from Mass in B Minor
Johann Sebastian Bach
The B Minor Mass represents the only major vocal work on which Bach worked during
the last decade of his life and must be regarded as one of the finest works of all time.
Bach used the Lutheran Missa of 1733 for the Kyrie and Gloria and set about composing
the Credo, Sanctus, and Agnus Dei to complete an entire Catholic mass. Work began on
the project around the middle of 1748, and the work was finished in 1749. The Dona
Nobis Pacem represents the final movement of Bach's "magnum opus." Bach's penchant
for borrowing from earlier works is evident in many places in the B Minor Mass.
Therefore, it should come as no surprise that the Dona Nobis Pacem is a repetition of the
music that formed the "Gratias Agimus Tibi" in the Gloria. There is no evidence that the
entire work was ever performed during Bach's life.
In this edition, all dynamic markings are editorial and provide a suggestion of how the
work might be shaped. The gradual increase in dynamic intensity is derived from Bach's
orchestration, which by gradually introducing trumpets and timpani, seems to call for this
kind of dynamic treatment. Also, the orchestral writing is completely colla parte until
measure 31, where trumpets take on the fugue subject independent of the voice parts.
It should be noted that there are several episodes – short sections where no fugue subject
is present – at mm.6-8, mm.20-25, that the conductor may wish to use as moments of
repose from an otherwise relentless dynamic drive to the final cadence.
Jonathan Reed
Jonathan Reed is Professor of Music and Associate Director of Choral Programs at
Michigan State University, where he teaches courses in undergraduate and graduate
conducting. He also conducts the State Singers and Men's Glee Club. He is in demand
as a festival and all state clinician throughout the United States. He has served the
American Choral Directors Association as a state president and as a regional and national
Repertoire and Standards Chair.
recording performed by the 2009 Texas All-State Mixed Choir
Sandra Snow, Conductor