| | |
| --- | --- |
| | |
Arranged by
Brian Tate
Voicing: SATB, descant
Instrumentation: Double Bell and/or Shaker
Catalog number: AMP 0736
Price: $1.90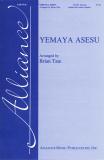 Pronunciation:
All words are pronounced with no diphthongs. "Ye" is pronounced almost like "yay".

Background:
Orishas, or deities, each of whom personifies a different aspect of nature and humanity – similar to the pantheon of Catholic saints. Yemaya is a feminine Orisha who represents the maternal force of creation and life itself. Her home is the ocean, and she is considered to be the mother of many other Orishas. "Asesu" is the aspect of Yemaya found at the ocean's surface. In my arrangement of this beautiful song, I have tried to use overlapping voices and rhythm to suggest the hypnotic movement of the waves and the tides.

Performance:
Yemaya Asesu should be sung in a lilting, lyric manner. Some discreet scooping can add to the gentle flowing effect of the song as the style should be somewhat loose and not too classical. Singers should be encouraged to sway gently as they sing; I have found this makes a discernable difference in the feel of the music and is also quite effective visually.

Traditionally, the 12/8 double bell pattern as notated accompanies this song. This, however, can be quite challenging to play as well as sing to! A simpler rhythmic accompaniment can be created by a having a shaker play on each beat.