Composed by Gabriel Faur&eacute
Arranged by
Alan Raines
Voicing: SSA
Instrumentation: piano
Catalog number: AMP 0708
Price: $2.00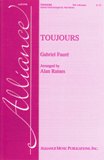 Toujours
Text by Charles Jean Grandmougin
Music by Gabriel Fauré
Fauré composed "Toujours" in 1878 as the final chanson in a set of three entitled
Poème d'un jour
, Op. 21. The virtuosic accompaniment continues throughout, fiery and unabated, and establishes the mood of the passionate, yet hopelessly lost and bitter lover. Fauré's performance indication is
Allegro con Fuoc
o and brilliantly displays one of the most powerful and frightening of all human emotions - anger. His fascination for the texts he chose to set is clearly seen in the melodies and harmonies that surround them. Perhaps even more than that of Debussy, Fauré's chansons are in the hands of almost every young man and woman studying voice. They are the epitome of great literature for the young singer. The arranger set "Toujours" with this concept in mind and to expose a wider audience to the beautiful lyricism of Gabriel Fauré.


 
Vous me demandez de me taire,
De fuir loin de vous pour jamais,
Et de m'en aller solitaire, 
Sans me rappeler qui j'aimais!

Demandez plutôt aux étoiles 
De tomber dans l'immensité,
A la nuit de perdre ses voiles,
Au jour de perdre sa clarté!

Demandez à la mer immense 
De dessécher ses vastes flots,
Et, quand les vents sont en démence,
D'apaiser ses sombres sanglots!

Mais n'espérez pas que mon âme
S'arrache à ses àpres douleurs, 
Et se dépouille de sa flamme
Comme le printemps de ses fleurs.
 
You ask me to be quiet,
to flee from you forever to a distant place,
and to depart alone
without thinking of the one whom I love!
 
You might more easily ask the stars
to fall from the sky,
or the night to lift its veils,
or the day to rid itself of its brightness!
 
Ask the immense ocean
to dry up its vast waters,
and, when the winds are raging dementedly,
ask them to calm their dismal sobbing!
 
But do not hope that my soul
can uproot its sorrow
and douse its flame
as the spring-time can shed its flowers!
 


Alan Raines, Director of Choral Activities at Baylor University,
is a frequent guest conductor and sought-after clinician,
conducting all-state and honor choirs throughout much of the
United States. His guest appearances abroad have taken him to
South Korea, Europe and Russia. Dr. Raines's choirs have performed for
regional conventions of the American Choral Directors Association
and the Georgia Music Educators Association. He is also a member of
the conducting faculty at the summer festival La Musica Lirica in Urbania, Italy.
recording performed by the McIntosh Singers, McIntosh High School
Peachtree City, GA
Franklin Glun, conducting