Richte mich, Gott
Composed by Felix Mendelssohn
Series Editor: Charles Fuller
Voicing: SSAATTBB
Instrumentation: a cappella
Catalog number: AMP 0270
Price: $2.20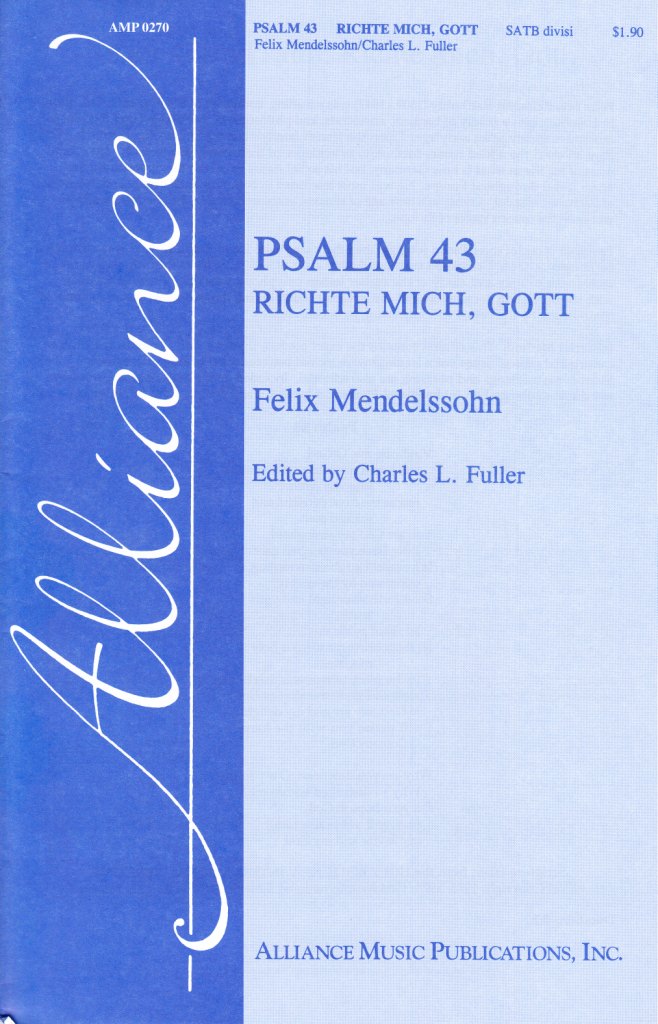 Felix Mendelssohn-Bartholdy (1809 -1847) was a leading composer of the Romantic Era. Born in Hamburg into a family of bankers, aristocrats, and philosophers, his background led him to musical notoriety at an early age. Upon the Jewish family's conversion to Christianity in 1821, they adopted the added name, Bartholdy, as evidence of their newly-found faith. He spent most of his life in what is now Germany, but his social status gave him the opportunity for much travel throughout Europe. He was most interested in both Romantic drama and the music of Bach and Handel. Living in a new age of musical entrepreneurship, he championed their works on the concert stages of Europe.
Psalm 43 is one of three Psalm settings (the others are Psalm 2 and Psalm 22) and was completed on January 3, 1844. Composed for the cathedral choir of Berlin, it shows the influence of his recent visit to Italy and study of the earlier Italian polyphonic masters. Venetian in style, with its contrasting vocal colors and conservative counterpoint, it nonetheless shows its time of composition by the varied and interesting harmonic choices.
Editorial Method: This edition contains the exact pitches, rhythms, and dynamic markings of the original source. Some voice leadings were moved between parts to aid performance. Metronome markings and phrasing are also editorial. Included on the back page is a word-by-word translation and an International Phonetic Alphabet transcription, both by the editor.
Psalm 43
Vindicate me, O God,
and plead my cause against an
ungodly nation;
rescue me from deceitful and
wicked men.
You are God my stronghold.
Why have you rejected me?
Why must I go about mourning,
oppressed by the enemy?
Send forth your light and your
truth,

let them guide me;
let them bring me to your holy
mountain,
to the place where you dwell.
Then will I go to the altar of God,
to God, my joy and my delight.
I will praise you with the harp,
O God, my God.

Why are you downcast, O my soul?
Why so disturbed within me?
Put your hope in God,
for I will yet praise him,
my Savior and my God.
Scripture taken from the HOLY BIBLE, NEW INTERNATIONAL VERSION
NIV Copyright 1973, 1978, 1984 by International Bible Society. All rights reserved.
Duration: 3:20