Hallelujah! I'm Goin' To Praise His Name!
Arranged by
Robert L. Morris
Voicing: SATB
Instrumentation: Piano
Catalog number: AMP 0675
Price: $1.80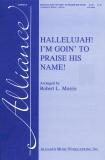 HALLELUJAH! I'M GOIN' TO PRAISE HIS NAME!
Performance Note
This setting, with completely written out accompaniment, poses little difficulty for the singers. The tenor part is high in order to approximate the intensity that three-part gospel choirs achieve by having all the male voices sing a tenor part. A bass part is written and necessary here. With the exception of one place (mm. 32-34), the lead voice parts have been woven into the choral parts.
Directors may elect not to repeat certain sections of the music; or, some sections may be repeated more times than written here. It is not necessary to relax eighth notes and dotted rhythms to triplets; reading the notation as written will retain the energy and drive necessary for a jubilant performance.