Composed by Antonio Caldara
Arranged by
Nancy Grundahl
Series Editor:
Rebecca Rottsolk
Voicing: SSA, descant
Instrumentation: keyboard
Catalog number: AMP 0660
Price: $2.00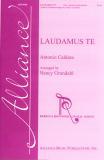 Laudamus te
This wonderful tune was found in a canon collection by Sol Weber called Rounds Galore! Captivating Rounds, Old and New (Astoria Press). Its title is listed as Eurythmie (Che Gusto), which could be used as a tempo marking for this delightful canon. The Latin text was added by the arranger, since the canon has no original text. To insure a dance-like quality, care should be taken to emphasize the normally stressed syllables in Latin (lau-DA-mus, glo-ri-fi-CA-mus, a-do-RA-mus, etc.).
Nancy Grundahl