Composed by Franz Josef Haydn
Arranged by
Nancy Grundahl
Series Editor:
Rebecca Rottsolk
Voicing: Three-part treble
Instrumentation: piano
Catalog number: AMP 0635
Price: $1.90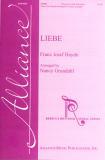 LIEBE
Franz Josef Haydn
The musical challenge of this lovely canon is to sing it with utmost expression while maintaining a strict tempo, not letting sixteenth notes move too quickly. There is much opportunity for teaching beautiful phrasing and syllabic emphasis (for instance, stressing the first syllable of Liebe). The canon is effective when performed in a spatial setting, and is a wonderful introduction to singing in German.
Nancy Grundahl
TRANSLATION
Say how the tones of the songs swell,
how the night illuminates life,
how beauty flings good to us?
Love, it is your magic power!