Composed by Johannes Brahms
Arranged by
Alan Raines
Voicing: SATB
Instrumentation: Piano
Catalog number: AMP 0617
Price: $2.00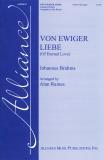 Von ewiger Liebe
Text by Josef Wenzig
Music by Johannes Brahms
About the Music
Brahms set the poetry of Josef Wenzig's "Of Eternal Love" in 1864 at the height of the Romantic era. A literary movement, Romanticism embodies the ideals of individualism, emotionalism, irrationality and subjectivity along with a keen interest in nature and exaltation of the hero – qualities all evident in Wenzig's poem.
Brahms' setting is a perfect example of his genius. The opening C–minor section perfectly establishes the mood of the intensely emotional and irrational young lad who is wrongly convinced his love is suffering shame and disgrace because of their relationship. D–major then sets the scene for the young maiden and heroine to quietly and calmly assure her sweetheart that iron and steel can melt, but true love lasts forever.
This lieder's setting gives ample opportunity for both men and women of your chorus to shine independently and collectively. Be sure to relate the story to your singers and in turn, implore that they be willing to become visual reflections of the text. Some stories are eternal...
Von ewiger Liebe
Dunkel, wie dunkel in Wald und in Feld!
Abend schon ist es, nun schweiget die Welt.
Nirgend noch Licht und nirgend noch Rauch,
Ja, und die Lerche sie schweiget nun auch.

Kommt aus dem Dorfe der Bursche heraus,
Gibt das Geleit der Geliebten nach Haus,
Führt sie am Weidengeüsche vorbei,
Redet so viel und so mancherlei:

"Leidest du Schmach und betrübest du dich,
Leidest du Schmach von andern um mich,
Werde die Liebe getrennt so geschwind,
Schnell wie wir früher vereiniget sind.
Scheide mit Regen und scheide mit Wind,
Schnell wie wir früher vereiniget sind."

Spricht das Mägdelein, Mägdelein spricht:
"Unsere Liebe, sie trennet sich nicht!
Fest ist der Stahl und das Eisen gar sehr,
Unsere Liebe ist fester noch mehr.

Eisen und Stahl, man schmiedet sie um
, Unsere Liebe, wer wandelt sie um?
Eisen und Stahl, sie können zergehn,
Unsere Liebe muss ewig bestehn!"

Of Eternal Love
Dark, how dark it is in the forest and field!
He leads her past the willow bushes,
Night has fallen; the world now is silent.
Nowhere a light and nowhere smoke.
Yes, now even the lark is silent.

From yonder village there comes the young lad,
Taking his beloved home.
He leads her past the willow bush
He leads her past the willow bushes,
Talking so much, and of so many things:

"If you suffer shame and if you grieve,
If you suffer disgrace before others because of me,
Then our love shall be ended ever so fast
As fast as we once came together; It shall go with the rain and go with the wind,
As fast as we once came together."

Then says the maiden, the maiden says:
"Our love shall never end!
Steel is firm and iron is firm,
Yet our love is firmer still.

Iron and steel can be recast by the smith
But who would transform our love?
Iron and steel can melt;
Our love, our love will have to last forever!"


Alan Raines, Director of Choral Activities at Baylor University,
is a frequent guest conductor and sought-after clinician,
conducting all-state and honor choirs throughout much of the
United States. His guest appearances abroad have taken him to
South Korea, Europe and Russia. Dr. Raines's choirs have performed for
regional conventions of the American Choral Directors Association
and the Georgia Music Educators Association. He is also a member of
the conducting faculty at the summer festival La Musica Lirica in Urbania, Italy.
recording performed by the Pennsylvania Music Educators Association Region 2 Chorus 2010