Composed by Claude Debussy
Arranged by
Alan Raines
Voicing: SSA
Instrumentation: piano
Catalog number: AMP 0579
Price: $1.80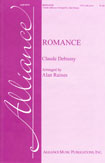 Romance
Text by Paul Bourget
Music by Claude Debussy
About the Music
While exquisitely beautiful, Debussy' s choral music can be challenging and difficult for even the finest high school and collegiate ensembles. Many of his chansons, however, belong in the canon of great literature in which young singers find themselves early in their study of voice. These pedagogically sound pieces have the inherent ability to teach healthy vocalism. The arranger set "Romance" with this concept in mind and to expose young singers to the intricate melodies and wonderful colors of the music of Claude Debussy.
 
L' âme évaporée et souffrante,	
L' âme douce, l' âme odorante
Des lis divins que j' ai cueillis	

Dans le jardin de ta pensée,	
Où donc les vents 'żont-ils chassée,
Cette âme adorable des lis?

N'est-il plus un parfum qui reste 
De la suavité céleste,	
Des jours oż tu m' enveloppais 
D' une vapeur surnaturelle	

Faite d' espoir,	
d'amour fidèle, 
De béatitude et de paix? 

	 
The fleeting and suffering soul,
the gentle soul,
the fragrant soul of those divine lilies

which I gathered in the garden of your thoughts,
Whither have the winds forced it,
that adorable soul of the lilies?

Is there no fragrance remaining 
of the heavenly loveliness of those days
when you enveloped me 
in their supernatural mist

Fashioned of hope,
of faithful love,
of blessedness and of peace? 

Alan Raines, frequent guest conductor and sought after clinician, has conducted all-state and honor choirs throughout much of the United States. His guest appearances abroad have taken him to South Korea, Europe and Russia. Director of Choral Activities at Georgia State University, Raines conducts the University Singers and the Choral Society, teaches graduate conducting and administrates the graduate choral program. Dr. Raines' choirs have performed for regional conventions of the American Choral Directors Association and the Georgia Music Educators Association. He is also a member of the conducting faculty at the summer festival
La Musica Lirica in Urbania, Italy.