Composed by
Rihards Dubra
Edited by
James Rodde
Voicing: SATB a cappella
Catalog number: AMP 0551
Price: $1.90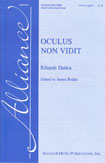 Rihards Dubra was born in 1964 and studied music theory and composition at the Emils Darzins Music College and the Latvian Music Academy with Juris Karlsons. In 1997 he completed his musical education in LMA with a Masters degree in composition. For several years, he was an organist at Mater Dolorosa Catholic Church in Riga. He is one of the founders and leaders of the group Schola Cantorum Riga. He also works as a music theory and composition teacher at Jurmala Music College.
"Oculus non vidit" was composed in 1993.
EDITOR'S COMMENTS
In the original manuscript, Dubra provides only two breath marks, in measures 38 and 42. In my first conducting of "Oculus non vidit," the choir sang it quite sustained, breathing as an ensemble only where indicated with the following exceptions: at the end of measures 24, 28, 32, and 35. The basses also took breaths after each illum in measures 51–70. As a general rule, we supplied a slight crescendo on any pitch longer than a quarter note.
In the final measure the sopranos, altos, and tenors are to freely sing their three designated pitches at their own individual pace.
The manuscript has no bar lines until measure 22. The initial 21 bar lines were added by the editor.
TRANSLATION

No one has ever seen, no one has ever heard,
no human heart has ever imagined
what God has prepared for those who love him.
I Corinthians 2:9
performance by Iowa State Singers
Ames, Iowa
James Rodde, conductor