Composed by Erasmus Widmann
Edited by Joy Sherman
Series Editor:
Lawrence Kaptein
Voicing: SATB a cappella
Catalog number: AMP 0540
Price: $1.70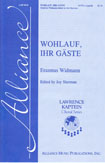 EDITORIAL NOTES
ERASMUS WIDMANN (1572-1634) was a highly regarded German musician and literary figure whose many artistic contributions to the German Renaissance remain largely undiscovered by toda's musical world. A composer of both vocal and instrumental works, Widmann was equally recognized as a poet and author within German cultural circles. Around 1615 he published a musical treatise ("Praecepta musicae latino Germania") and was later awarded the title "Imperial Poet-laureate." Widmann frequently utilized his own poems as the texts for his secular compositions. His vocal works included psalms, motets, as well as secular songs, of which "Wohlauf ihr Gäste" is a fine example. Short works like this one were primarily sung by sophisticated amateur musicians within informal settings. Such "in-home use" allowed for great flexibility with regard to the number of singers per part and the use of instruments with voices. Consequently, instrumental doublings and/or substitutions as a means of reinforcing or replacing vocal lines by today's choral ensembles is completely appropriate.
Most German composers from this period, including Erasmus Widmann, imitated the compositional style made popular by their better-known Italian contemporaries. The migration of accomplished Italian and Netherlands composers to German courts and municipalities during the late Renaissance (including Lasso, who settled in Munich in 1556) undoubtedly contributed to the "internationalization" of this popular Italian/Franco-Flemish compositional style.
"Wohlauf ihr Gäste" is an appealing, light-hearted work, appropriate for any time of year, but perhaps particularly well-suited for the holiday season. All tempo, articulation, and expression marks are completely editorial, as it was not the custom to indicate such things in manuscripts from this period. In general, "Wohlauf, ihr Gäste" should be sung with an energized, detached articulation.
Lawrence Kaptein
University of Colorado, Boulder
             
Joy Sherman
Seattle University
TRANSLATION
Wohlauf, wohlauf, ihr Gäste gut,
seid frýhlich, Frisch und wohlgemut,
den Griesgram wollen wir zwingen.
Frischauf, schenk ein, Geselle mein,
den guten, frischen kýhlen Wein.
Frischauf, wir wollen frýhlich sein,
tu mir Bescheid, Geselle mein
und trink den guten, kýhlen Wein.
             
Good Cheer, all you good guests,
be joyful, refreshed and of good mood.
We will do away with all downheartedness.
Good cheer, pour me, my friend,
this good, refreshing and cool wine.
Good cheer, we will be joyful,
be with me, my friend,
and drink this good, cool wine.
              --Margaret Buchmann