Composed by Tomás Luis Victoria
Edited by
Susan McMane
Voicing: SSAA a cappella
Catalog number: AMP 0583
Price: $1.90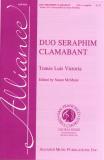 Duo Seraphim clamabant (1583)
Tomás Luis de Victoria (1548 - 1611) is considered one of the greatest Spanish composers of the Renaissance. He was born in Avila where he sang as a choirboy at the cathedral. A promising young musician, the young seventeen year old Tomás was sent to Rome to study at the Jesuit Collegium Germanicum. While in Rome, Victoria came into contact with Palestrina who was maestro di cappella at the nearby Seminario Romano. Victoria was ordained a priest in 1575 and wrote only sacred music on Latin texts for the Catholic church. In 1587, Victoria returned to Spain, accepting an offer by Philip II to become chaplain to the king's sister, Empress Maria, who lived at a convent in Madrid. Victoria remained there until his death in 1611.
"Duo Seraphim clamabant"was composed in 1583 for the young choirboys at S. Girolamo della Carità. Like many of Victoria's compositions, it contains a heartfelt, personal expression, perfectly wed to the text. The four treble voices represent angels joyfully singing praises to God. Victoria employs imitation, with each voice stating the text in succession. Interesting examples of text painting occur throughout the motet. For example, at the beginning of the work, the text refers to "duo seraphim"or "two angels"and Victoria employs only two vocal lines. Also, when the second section commences with the words "Tres sunt"or "Three are"the composer drops the lowest alto voice and has only three voices sing. At "plena est"(translated "full is") a fuller texture in a higher tessitura is utilized to depict the entire company of angels singing.
TRANSLATION

Duo Seraphim clamabant alter ad alterum:		Two angels cry aloud unto each other:
Sanctus Dominus Deus Sabaoth.					Holy, Lord God of Sabaoth
Plena est omnis terra gloria ejus,					All the world is full of his glory,
Tres sunt, qui testimonium dant in coelo,			Three which hear testimony in heaven,
Pater et Verbum, et Spiritus sanctus;				Father, Word and Holy Spirit;
et hi tres unum sunt.							And all these three are one.

PERFORMANCE EDITION
In measures 76-81, soprano I and II were exchanged to end with the higher, lighter voices on the upper pitches. All dynamics and breath markings are editorial. Pitch was not standardized in the 16th century; therefore, this piece may have been sung higher or lower than our standard A-major. If the tessitura seems too high for the soprano passagio (e2 - f#2), one could sing the motet one-half step lower in A♭ major. The work needs to be sung with little to no vibrato to appreciate the clear, transparent quality of Victoria's part-writing.
from the San Francisco Girls Chorus Choral Series