| | |
| --- | --- |
| | |
(Eastern Mongolian Folk Song)
Arranged by
Xixian Qu
Edited by Yiping Wu
Series Editor: William Hatcher
Voicing: SATB a cappella
Catalog number: AMP 0556
Price: $1.70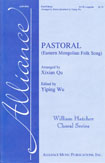 PASTORAL
(Eastern Mongolian Folk Song)
TRANSLATION
Cui lư di cao di shang pao zhe bai yang,
Emerald green on the pasture run white sheep

yang qun xiang zhen zhu sa zai lư rong shang.
sheep like pearls spread on green velvet



Wu bian di cao yuan shi wo men di gu xiang,
Boundless pasture is our homeland

bai yun he qing tian shi wo men di peng zhang.
white clouds and blue sky are our tents



Zao xia ying jie wo zi you di ge chang,
Morning glow welcomes me freely singing

sheng huo shi zhe yang xing fu huan chang.
live is such happy joyful



White sheep frolic on the emerald green pasture;
Like pearls upon a green carpet.

Boundless pasture is our homeland;
White clouds and blue sky are our tents.

The rosy dawn welcomes our carefree song;
Happiness and joy fill our lives.
Text: Mo Hai
English Text: Phil Brown
There is an IPA pronunciation guide on page four of the octavo.