| | |
| --- | --- |
| | |
Arranged by
Valerie Shields
Series Editor:
Rebecca Rottsolk
Voicing: two-part treble (may also be unison)
Instrumentation: optional descant and instrument(s) in C
Catalog number: AMP 0527
Price: $2.30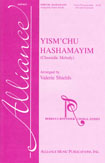 YISM'CHU HASHAMAYIM
As early as the sixteenth century , Jewish worship included psalms 95-99 and psalm 29 as part of the Kabbalat Shabbat (Receiving or Welcoming the Sabbath) services sung on Friday evenings. Psalm 96 delivers a universal message, envisioning a time when all humanity will worship only one God. Here the music for Kabbalat Shabbat reflects the Hebrew in its celebration of God's law, the law of the heavens, being supreme. Many Jewish texts employ the term "0l malchut Shamaim" (the yoke of the heavens) to refer to God's law. Thus the music emphasizes that we are to shout: "God is great! Everyday, always, everywhere and to everybody, so come join me in praising!" The writer of the text knows of the greatness of God from experience, not reason. The music expresses the emotion of yearning for the presence of God, which reaches beyond one person, one nation, and even human beings!
Rabbi Philip Rice
Translation: Psalm 96: 11
Let the heavens be glad and the earth rejoice;
let the sea roar, and all that fills it.