Arranged by
Nancy Grundahl
Series Editor:
Rebecca Rottsolk
Voicing: SSAA
Instrumentation: a cappella, solo
Catalog number: AMP 0506
Price: $1.70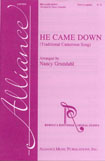 Songs from Africa can be performed effectively with or without percussion. If percussion is used, the following suggestions might be helpful.
Any drum that can give two pitches can be used: conga, bongo, or djembe. A soft tremolo can follow each of the solo phrases at the beginning before a rhythmical pattern enters in measure 6. No percussion should play during the legato verse on page 8. When a steady rhythm begins in measure 6, a gifted percussionist can improvise rhythms that vary from quarter notes (lower pitch on beats 1 and 3) to combinations of eighths and sixteenths, alternated with the lower pitched quarter notes on the downbeats.
Nancy Grundahl
performance by Los Angeles Children's Chorus
Pasadena, California
Anne Tomlinson, artistic director