No. 1 of Sechs Sprýche, Op. 79
Composed by Felix Mendelssohn
Edited by
Lawrence Kaptein
Series Editor:
Lawrence Kaptein
Voicing: SSAATTBB
Instrumentation: a cappella
Catalog number: AMP 0504
Price: $1.90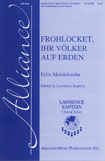 EDITORIAL NOTES
Felix Mendelssohn (1809-1847) was one of the major compositional figures in nineteenth-century Germany. While perhaps best known for his large-scale symphonic and choral-orchestral works, Mendelssohn also produced a significant number of small-scale sacred and secular works for unaccompanied voices. While several of the more popular choruses from Elijah, as well as a small number of part-songs, receive regular performances by American choruses, the majority of Mendelssohn's motets are seldom heard. The fact that the texts for these works are rooted in the Protestant church calendar (and have German texts) has undoubtedly contributed to their neglect. Many of these motets can in fact be effectively programmed as excellent concert pieces. "Frohlocket, ihr Výlker auf Erden,&rdquoö for example, was originally intended for liturgical use during the Christmas season. Its relative brevity, exuberance, lyricism, and rich (and uncomplicated) harmonic style make it an ideal opening selection for many secular choral settings.
Mendelssohn's lifelong interest in the music of J.S. Bach contributed to an important revival of Bach's music throughout nineteenth-and twentieth-century Germany. It could be argued that Bach's own motets provided Mendelssohn with important compositional models. Voicing and texture are just two facets of style that are effectively exploited in the motets of both composers.
In 1843, Mendelssohn was appointed choirmaster at the Berlin Cathedral. Despite his Jewish heritage (Mendelssohn's grandfather, Moses Mendelssohn, was an important eighteenth-century Jewish-German philosopher; Mendelssohn's father, Abraham, later converted to Christianity and changed the family name to Mendelssohn-Bartholdy), Felix Mendelssohn had no apparent philosophical difficulty setting Christian texts. "Frohlocket, ihr Völker auf Erden" was composed sometime between 1844 and 1845 while Mendelssohn was working at the Berlin Cathedral.
TRANSLATION
Rejoice, give praise to the heavens and give thanks to God!
The Savior has been sent, as was promised by the Lord!
He has revealed his righteousness to the world. Alleluia!
My special thanks to Benjamin Riggs for his creativity and skill in helping me prepare this edition for publication.
Lawrence Kaptein