Composed by Grzegorz Gorczycki
Edited by
Lawrence Kaptein
Series Editor:
Lawrence Kaptein
Voicing: SATB
Instrumentation: a cappella
Catalog number: AMP 0489
Price: $1.70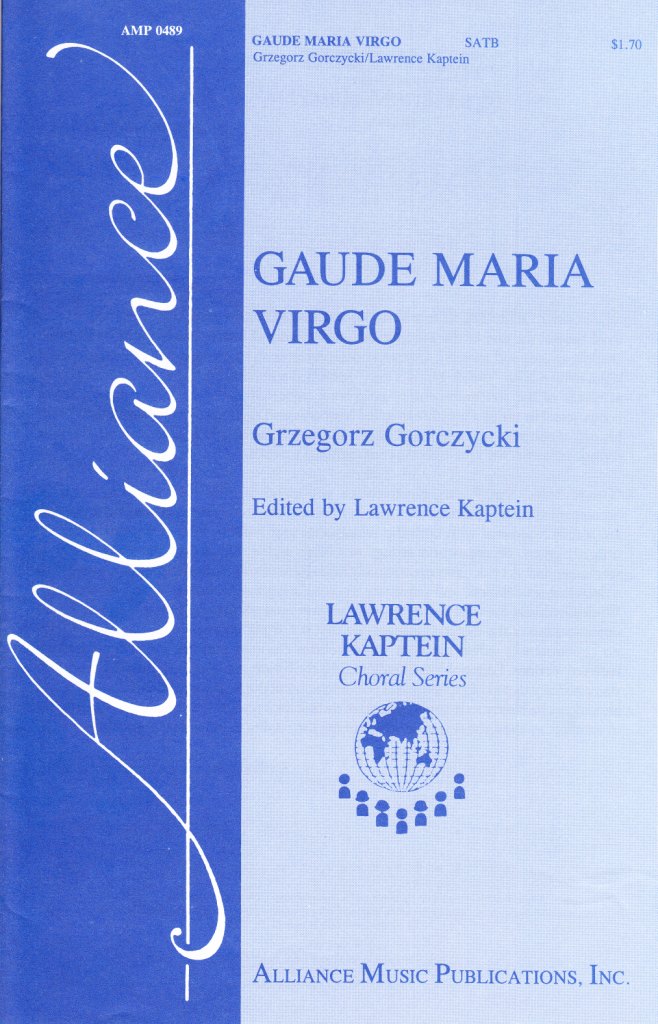 GRZEGORZ GORCZYCKI (c1664-1734) was a noted Polish composer and theologian who lived toward the end of the Baroque era. A composer of largely sacred Latin vocal music (mainly masses and motets), Gorczycki demonstrates an interesting mix of compositional styles in his works. "Gaude Maria Virgo," published around 1730, shows that Gorczycki was a master of the sixteenth-century polyphonic style refined by an earlier generation of composers. His use of a greatly expanded harmonic and rhythmic vocabulary, coupled with his use of contrast (the concerted style), illustrates how he effectively combines Baroque stylistic elements with pre-existing compositional practice.
"Gaude Maria Virgo" can effectively be performed as either an unaccompanied or accompanied piece - particularly, since its musical character seems to possess elements that are readily associated with both the Renaissance and Baroque eras. If accompaniment is utilized, organ, or organ and strings (doubling and/or reinforcing the voice parts) is recommended. A brisk tempo, particularly throughout the opening triple section, along with a detached articulation, and sensitivity to underlying metrical stress should be observed. While Gorczycki does not specify an exact proportional relationship between the triple and duple sections of the motet, it is suggested that the 'tripla' proportion be employed. Under no circumstances would the note values remain constant between the two contrasting metered sections. Editorial "lifts" (indicated by the breath marks in each vocal line) are also suggested as a means of grouping and phrasing notes in the Baroque manner. The editor has also taken the liberty to reiterate several of the syllables toward the conclusion of the motet In an effort to assist the singers in maintaining the vitality in individual vocal lines.
Lawrence Kaptein
recording performed by The University of Colorado at Boulder Choir
Boulder, Colorado
Lawrence Kaptein, conductor