Composed by (Jan) Campanus Vodnansky
Edited by
Lawrence Kaptein
Series Editor:
Lawrence Kaptein
Voicing: SATB/SATB
Instrumentation: a cappella
Catalog number: AMP 0488
Price: $1.80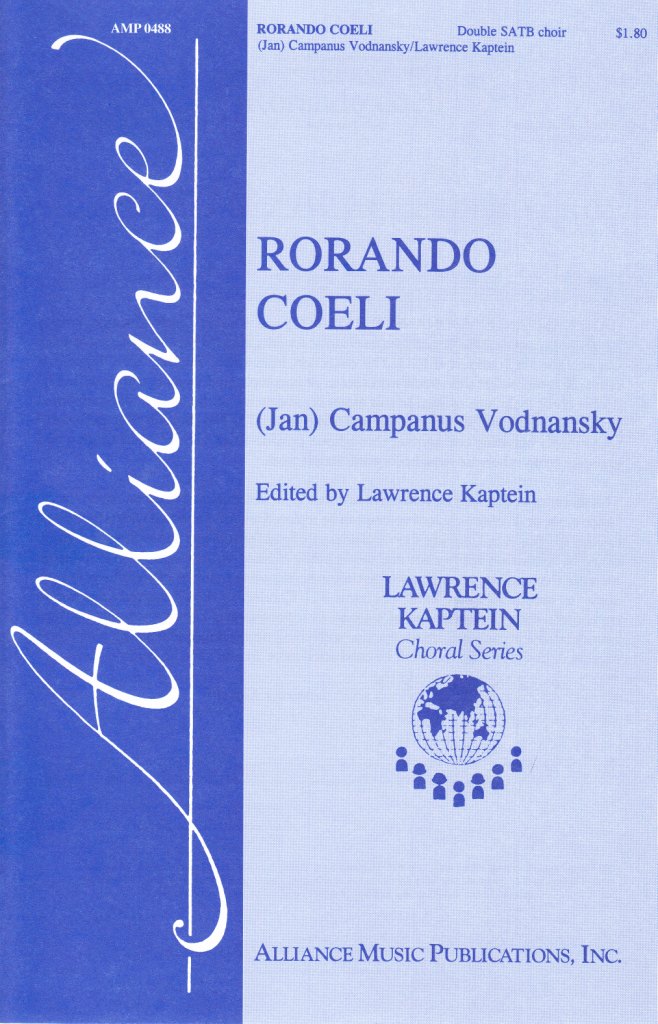 (JAN) CAMPANUS VODNANSKY (1572-1622) was a noted Czech educator, literary figure, and composer. His first collection of musical works, entitled Sacrarum odarum libri duo was published in Frankfurt in 1613. This collection, from which "Rorando coeli" is taken, is primarily comprised of short vocal works set in an uncomplicated, homorhythmic style. The double choir technique utilized in this motet is reminiscent of the more lavish antiphonal works made famous by Venetian composers of the period. The two choirs in "Rorando coeli," while simply imitating one another throughout, provide an element of sophistication and grandeur to an otherwise straight-forward, simple work.
This motet can effectively be performed as either an unaccompanied or accompanied piece. Voice parts, or an entire choir of voices, can be replaced and/or reinforced with either organ or other instruments. Doubling the vocal lines with brass instruments and/or brass and organ, would be stylistically appropriate and aesthetically pleasing. Spacial separation can further enhance the dramatic impact; as well as utilizing contrasting numbers of performers in each choir (ie: chorus #2 as an "echo" of chorus #1). Conductors should therefore feel free to experiment with choir size, use of soloists, instruments, and keys. Obviously, logistical considerations in each performance venue will have a tremendous influence on tempo; it is suggested, however, that this work be conducted more 'in one' than 'in three.'
Lawrence Kaptein