| | |
| --- | --- |
| | |
from Mass in C Minor (KV 427)
Composed by W. A. Mozart
Edited by Henry Gibbons
Series Editor:
Ling Liing Tam
Voicing: SSATB
Instrumentation: piano with optional orchestral score
Catalog number: AMP 0480
Price: $2.00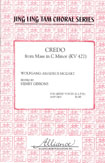 Credo from Mass in C Minor, KV 427
Usually Mozart composed on commission (operas, wind concertos, the Requiem, dance music for the court) or on speculation of future financial gain (symphonies and piano concertos for his own lucrative public concerts). The Mass in C Minor, KV 427, is unusual in that it was written for purely personal reasons, with no prospect of performance or publication, to fulfill a vow he had made while praying for his wife Constanze's recovery from an illness. On a return visit to Salzburg in the summer of 1783, Mozart had hoped to heal the rift that his marriage to Constanze had caused in his relationship to his own family, who disapproved of Constanze 's family. He brought the movements of a yet to be completed mass with him as a peace offering. It was performed in church on October 26, with Constanze singing the soprano solo, and presumably with movements of other masses substituted for the missing sections.
Henry Gibbons