Composed by
Rihards Dubra
Edited by
Kenneth Fulton
Series Editor:
Kenneth Fulton
Voicing: SATB
Instrumentation: a cappella
Catalog number: AMP 0478
Price: $1.70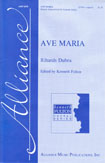 AVE MARIA
Hail, Mary, full of grace, the Lord is with Thee.
Blessed art Thou among women and blessed is the fruit of your womb, Jesus.
Holy Mary, Mother of God, pray for us sinners now and at the hour of our death.
Rihards Dubra was born in 1964 and studied music theory and composition at the Emils Darzins Music College and the Latvian Music Academy with Juris Karlsons. In 1997 he completed his musical education in LMA with a Masters degree in composition. For several years, he was an organist at Mater Dolorosa Catholic Church in Riga. He is one of the founders and leaders of the group "Schola Cantorum Riga." He also works as music theory and composition teacher at Jurmala Music College.
"Ave Maria" is part of a collection of ten sacred pieces for mixed choir, four of which employ Marian texts and the others similarly well-known words. According to the Church Music Quarterly, October 1995, "the general idiom is diatonic, contemporary techniques in choral writing are used freely, and for the discerning choir director who is looking for something quite new to add to the repertoire, this volume will prove to be an intriguing resource book."
PERFORMANCE NOTES
1. Letters A, F of the music were not metered at all by the composer and he prefers that the three part alto chant be a dynamically static, pitched monotone with vocal reference to the syntax of the language (or the added meter).
For visual convenience, the editor has inserted dotted barlines to serve ONLY as rehearsal references. Those suggested "measures" contain groupings that are uneven in length (2 or 3 eighth notes marked by brackets) and the J'I should remain constant throughout this section. The final effect should be similar to conducting plainsong groupings without any recognizable metric or textual stresses by the performers! Again, these suggestions are pragmatic only.
2. On the other hand, the melodic counterpoint between the soprano and tenor in that same section (Letters A,F) should be expressively phrased both textually and musically.
3. The ending should be, as marked in the score, a slow downward glissando with both the pitch and the voice gradually descending and disappearing a niente (to nothing).
Kenneth Fulton